Cavalier errors lead to a hard fall versus Midlothian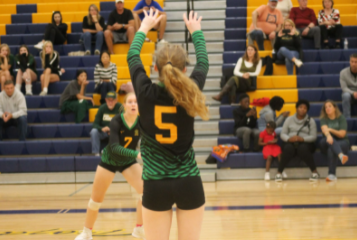 The Clover Hill girls' volleyball team traveled to Midlothian high school last night looking for revenge. After losing the first game at home three to one earlier this season, the Green and Gold was looking to knock off the undefeated Trojans. 
In this David vs. Goliath situation, the Cavs came out hot. Behind great defense from sophomore libero Sophia Carter and senior captain Izzy Carter, the duo dug up powerful spikes and serves, keeping the game back and forth. During the first timeout, the scoreboard saw the Trojans lead only by an 18 to 16 line. Excitement was high for the Cavs until an errant serve followed by a botched reception killed the Clover Hill momentum. These mental errors proved to be the one bump in the road, which derailed the entire team, as they lost the set 25 to 21.
A bright spot for the Cavalier team came in the form of sophomore Sophia Carter. Earning her first Cavalier Chronicle Player of the Game award, the libero ended with two aces, one kill and 11 digs.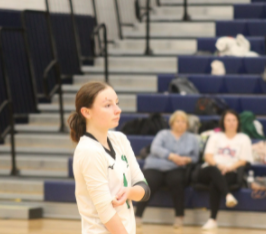 The following two sets looked as if the Cavs sent a different team to the floor. Miscommunication and a lack of unity led to the Cavs' demise. The Green and Gold looked stagnant on the floor. Their previous weeks of stellar defense and intricate teamwork were nowhere to be found. The Cavs quickly lost the last two sets by scores of 25 to seven and 25 to four, respectively, with the only points coming from errant serves and balls hit out of bounds from the Trojans. 
The Cavs come back to The Hill on Oct. 18 against the Monacan Chiefs, (4-8) where they will look to get their groove back after a rough night on the road.