Powhatan proves to be too much for Cavs
On Wednesday, the boys' basketball team took on the Indians from Powhatan High School. Being the closest game that the team has played this season, the boys dropped the matchup by a score of 57-53. Similar to past games, the game came down to the Indians making a few clutch free throws, as well as the Cavaliers' rebounding trouble.
After going down on the scoreboard in the first quarter, the Cavs came back to lead the game at halftime. A steal by senior Grafton Allen led to two fastbreak points, pulling the game within one point at 22-21 and causing Powhatan to take a timeout with just under six minutes to go in the half. Sophomore Brandon Hill proved to be instrumental in the half, as he contributed 13 points on 56% shooting. At halftime, the scoreboard read 29-26 in favor of the Cavaliers.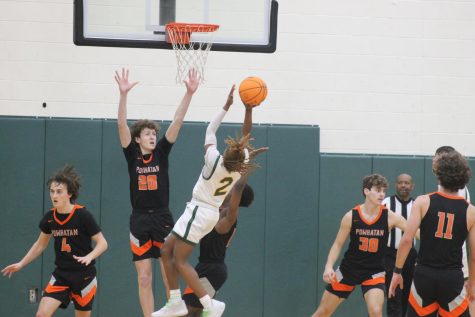 When they came back onto the court following the halftime break, the Green and Gold picked up right where they left off. Their immense shooting during the quarter allowed them to score 14 points, identical to the team's figure in the second. While Powhatan outscored the Cavs 15-14 in the quarter, the Cavaliers were able to keep the lead entering the fourth quarter. 
Unfortunately, for the Cavs, Powhatan caught fire in the fourth and final quarter, outscoring the Cavaliers by six points resulting in a four point win for the Indians. 
While the second half proved to be disappointing, as they later dropped the game, the Cavs would not have been able to stay in the game without the work of junior Mikea Lewis. Lewis won his second consecutive Cavalier Chronicle Player of the Game award after a performance that saw him score 13 points on 56% shooting with two assists. 
As the Cavs look forward to their next game against Cosby (6-4) tonight, Friday, Jan. 6, at home, they will surely be hoping to pull down their fair share of rebounds, especially on the defensive side, as many Powhatan offensive rebounds led to second chance, and even third chance points, contributing to the loss. The matchup against Cosby will start at 7:15 p.m.