Stride Tutoring offers free, online tutoring for students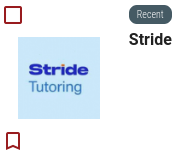 Chesterfield County Public Schools (CCPS) is offering free, online tutoring for middle and high school students through the Stride Tutoring Program. 
Students can access the program through the Stride Tutoring app on their Rapid Identity student dashboard. Following the instructions on the quick-start guide, they can log in to the service and select a tutor according to the subject they need help in and their availability on their schedules. All tutors are certified teachers ready to help with any subject or need that students have. 
To log in, students must use their student ID number followed by "@ccpsnet.net" as the username and "CCPS" followed by their birth date as the password. For example, a student born on Jan. 1, 2008 would use "CCPS01012008" as their password. Once they log in, they can select a tutor and set up a tutoring session.