Quyen Nguyen uses art to connect with others
Senior Quyen Nguyen is officially saying her last goodbyes to Clover Hill High School as she, along with the graduating class of 2023, prepare for the last few days of high school. While a student at this school, Nguyen has won numerous awards for the school through her achievements in academics and the arts.
Known for her artistic abilities, Nguyen is a prominent figure in the art community here at Clover Hill. Ever since childhood, she has created art as a form of self expression and a way to connect with others.
"I think being an artist is very human and it's like being a vessel for humanity," Nguyen said. "I do want to show people that they're not alone and that there are people that are kind in this world who are genuine and authentic."
Nguyen is a part of the math and science program here at Clover Hill; therefore, she takes more rigorous and academically loaded courses. She claims the program has helped her pursue her artistic abilities more. 
"I think having that contrast really pushed me to pursue my passions outside of school and outside of my academics," says Nguyen.
Nguyen expresses a lot of gratitude towards the art department here at Clover Hill for continuously pushing her to improve. When entering Clover Hill as a freshman, Nguyen thought her ability to pursue art would be over. During her time here at Clover Hill Nguyen learned that it is okay to keep some of your passions as hobbies and not a career. Through the mentoring she has received, Nguyen now knows it is okay to push herself out of her comfort zone.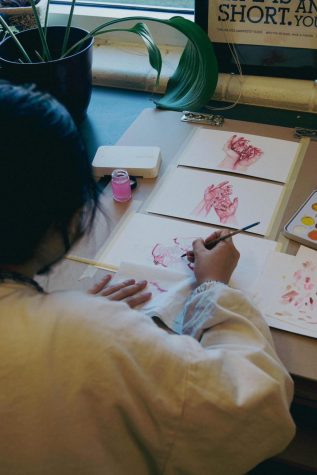 "The teachers were like 'you will never know what the outcome is and if you don't try'," Nguyen said. "Having these mentors really pushing the fact that, to just show up for yourself and then whatever happens happens, it's not a reflection of who you are."
In the fall of 2024, Nguyen will be attending Brown University with a double major in cognitive behavioral studies and modern culture and media studies. Nguyen worked hard so that her passion for the arts could be intertwined with her career path. She believes herself to be very lucky and is extremely grateful for the opportunities that she has been given.
"Coming from an immigrant family, you have a lot more urgency to grasp opportunities that are presented to you," Nguyen said. "I think that was just a really big opportunity that I never really thought I would have had, and the moment I had it I was like why not."