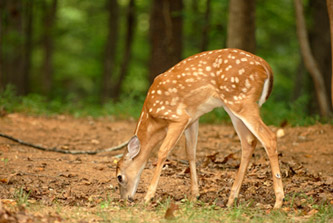 Many Virginians are ignoring our environment while deer are dying from a fatal, neurological disease. We should be paying more attention to what is going on around us instead of disregarding their health. 
CWD, chronic wasting disease, has been seen in northern and western Virginia. To date, there have been no reported cases of CWD infection in humans. Yet it has been found across the United States, Norway and South Korea. Texas is a huge hunting state, but many in Texas have not learned how to keep the disease from spreading.
According to the Virginia Department of Health, "Prevention of CWD in animals includes strategies such as lowering the density of certain animal populations, banning feeding or baiting of deer in areas with CWD, and prohibiting movement of certain animal carcasses out of an area where CWD has been found."
 The deer population is so infected in Texas that, in some areas, people are not allowed to hunt them anymore. Hunting ranges have been shut down and their economy is slowly declining, because of how much they rely on the money coming from their hunting fields. 
From the Department of Parks, and Wildlife, "If not managed, CWD can have devastating, long-term impacts on Texas' beloved white-tailed and mule deer. Visible symptoms often do not appear until just before death. Learn about your important role in protecting the state's most popular game animals."
If we do not want the CWD to impact Virginia as it has Texas, then we should be doing more to help. It has a 100% mortality rate that manifests slowly and will remain in areas for years, devastating deer populations. For something that will kill any infected, we should be trying to do more to stop it from spreading. All VA residents are strongly encouraged to dispose of deer carcass remains in local dumpsters, lined landfills, or using regular trash pick-up that will be taken to a landfill. 
"The potential impact of CWD to the white-tailed deer population of Virginia is a serious concern", according to the Virginia Department of Wildlife Resources. "Though the disease has not been shown to pose a health risk to humans or domestic animals."
Though it does not affect humans, it still impacts deer in horrific ways.
"Sometimes it takes over a year before an infected animal shows symptoms," according to The Centers for Disease Control and Prevention. "[Symptoms] include weight loss, drowsiness, stumbling, lack of muscle coordination, difficulty swallowing and other neurologic symptoms."
Slowly the symptoms become worse and worse until they die a painful death. 
According to The Centers for Disease Control and Prevention, "Neurological signs and behavior changes include depression, head tremors, teeth grinding, hypersalivation, circling, drooping of the ears and isolation from other animals."  
After the animal has died they can still transfer the disease up to two years. Predators can transmit CWD if they have come in contact with the disease. Transmission can also occur through direct contact in the environment. Once CWD has been introduced into the area, it becomes contagious and can spread quickly. 
From the US Animal & Plant Health Inspection Service, "For many years, the National Wildlife Research Center researchers have worked to develop methods to reduce the transmission and spread of CWD among wild and captive deer"
Studies are under way to identify if any prion (transmissible, untreatable, and fatal brain illness of mammals) diseases occur at a higher rate in people who are at increased risk for contact with potentially CWD-infected deer or elk meat. There have been many times when diseases have jumped from species to species. Just like how COVID-19 transferred from bats to humans, this disease might be able to transfer to us.
 "There is no direct evidence that CWD has ever been transmitted to humans," According to MyHelath.Alberta. "However, some research shows that CWD can be transmitted to monkeys closely related to humans by feeding them meat or brain tissue from deer and elk infected with CWD "Health organizations like the Centers for Disease Control and Prevention suggest being careful if you eat meat from animals harvested from areas where CWD has been found."
As Virginians, we should be more aware of the health of the animals in our environment. Most people do not even know that CWD exists, much less that it is in their area. Now that we understand how this affects us, we should be doing more to stop this disease.