In early Nov., Geologist Kenneth Banister spoke to science students to further their understanding of geology. His visit consisted of two presentations: the first one covered his responsibilities as a geologist, and the second was a research presentation Bannister plans to present to the American Groundwater Trust.
Bannister began by informing students about what being a geologist personally meant to him. Bannister has been a geologist and worked as an environmental scientist for 45 years. Even though his job can be difficult at times, the influence he can provide to others, himself and the world make all the hardship worth it in the end.
"One of the most important things to me is that you get to be involved in solving real world problems," Bannister said. "You get to create a lasting, positive impact on your community, your peers, and even yourself in the long run."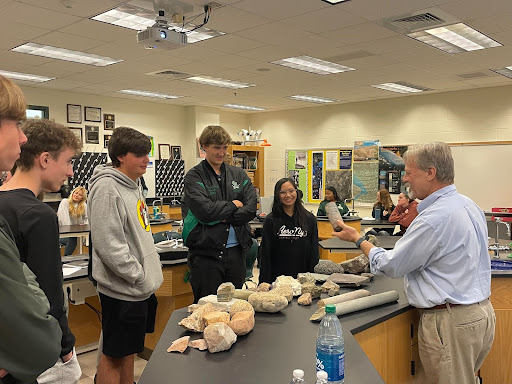 In order to provide the class with an example of how he and his colleagues created a lasting impact, Bannister shared a story of how they were able to use their knowledge in geology to help those in need. When a hurricane hit Honduras in 1999, Bannister and his co-workers traveled to Honduras to help the local people. While in Honduras, they taught around 300 people how to find and create groundwater supplies.
"We drilled [a] well and it supplied enough water for 5000 refugees from the hurricane," Bannister said. "We also raised a lot of money and gave them a check for several 1,000 so they can buy their worn drill rig and continue drilling wells, that's one way to create a lasting positive impact."
Since starting his career in the 1980s, Bannister has traveled to multiple countries throughout the world. Some of the countries he has traveled to are Canada, Ghana and Uganda. By visiting different nations, Bannister has had the opportunity to learn about different cultures and discover new experiences.
"You get to see a lot of different people from different cultures," Bannister said. "You get to visit a lot of places only a few people have been and we just get to see the most amazing things."
After sharing some of his personal work experience, Bannister went on to discuss some of the projects he has done in the past.
"This is called K-testing, where you go out and you basically dig a hole in the ground, put water in it, and see how fast the water seeps into the ground," Bannister said. "There are a lot of formulas you can use to determine the permeability of the ground."
During another one of his projects, Bannister was trying to solve the problem of stream restoration, which is reconnecting a stream with natural groundwater. His main goal was to figure out the problem and how to fix it. This particular project was a challenge due to the severity of the erosion, but the general knowledge needed to solve stream restoration can be a difficult task in and of itself, and help is sometimes needed.
"There are several things [to consider] when you are delineating a wetland," Bannister said. "There's the plant, there's the soil, and then there's the hydrology. All three things have to factor into delineating a wetland, you have to understand all three of those. I'm pretty good with the soil in the water and [I had] Dave for the plants."
Whether working on a project or not, Bannister regularly gets paired with interns. As a mentor, Bannister has worked with a variety of interns, ranging from his own daughter to PhD students. While being their mentor, he tries his best to help guide his students into their desired area of interest.
"Part of my role is to mentor a lot of these younger people," Bannister said. "I try to help them reach their goals in terms of what they want to do with their profession."
Although Bannister gets to travel a lot and meet new people, his main goal at work is to better understand the Earth's landscapes. Through understanding the world he, along with his crew, can find the best ways to improve our environment.
"What we are really trying to do is get an understanding of the geological setting, in other words, [understand] what exactly is going on underneath our feet at certain locations," Bannister said.
When signing up for a job Bannister may not know where he is going to sleep, but the gained experiences make it well worth it in the end.
"[I have] stayed in everything from a mud hut to a five star resort hotel," Bannister said. "You get to work outside a lot, see some fun things, eat some interesting food, and learn about different cultures when you do this kind of work, and personally, I like these things."