A visual masterpiece: 'Suzume'
During the rough year of 2020, fans of the beloved Japanese director, Makoto Shinkai, were ecstatic when the film "Suzume" was announced. It is Shinkai's most recent film since the beloved hit, "Weathering with You."
As the skies turn dark and the ground trembles, Japan is at the brink of destruction from earthquakes. However, no one can see Japan's perilous state except a determined teen girl named Suzume, who sets out on a mission to save her country. Able to see the supernatural forces that others can not, it is up to her, Sōta and Daijin to close the mysterious doors that are spreading chaos across the land.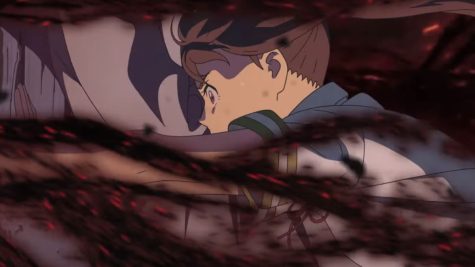 Although "Suzume" is all about earthquakes, the film is anything but shaky. From the very opening scene I knew I was in for a treat. The film opens with Suzume having an average, bland day of high school with her staring out the window longing for escape. Suddenly, Suzume sees a large, black cloud emerging from outside. She questions whether her friends and classmates can see it, but quickly realizes no one else can. After much debate on what to do, Suzume goes to the site of the cloud. When she arrives she sees a door with the cloud releasing. Every cloud scene before a possible earthquake is an absolute delight to witness. The dark clouds are absolutely stunning to watch as they slowly ooze out. Personally, I am not that afraid of a simple earthquake shaking the ground, but the way Shinkai animated the cloud in a menacing way made me fearful.
"Suzume's" film score is brilliant because of how each piece perfectly captures the atmosphere of every scene. During earthquake scenes, the mood is heightened due to the tension the score built. On the other hand, during calm moments, I truly felt at peace due to how enlightening the score is.
Many side characters, especially in anime, are flat and boring, but fortunately they are not in "Suzume." I love how Daijin the cat is such a dark character in one scene, but an absolute goofball in the next. Sōta is also fun to watch because of how much of a comedic relief he is. The side characters build off of Suzume and carry the film.
"Suzume" is a must see film. Drop everything and watch it, it is sure not to disappoint. With stunning visuals, a masterful film score and lovable characters, "Suzume" is up to par with all time great anime films such as "Spirited Away" and "Ghost in the Shell." ★★★★★