Ian Hooks follows his dream of sports broadcasting
After three years of participating in the Cavalier Chronicle, Ian Hooks is ending one chapter of his life and starting another. Hooks first joined journalism due to his dream of becoming a sports broadcaster. While Hooks explained sports broadcasting and the Chronicle are two different things, both fall into the same category: journalism.
"While it's [sports broadcasting] not necessarily writing per say, it is still being a personality and being yourself and the same kind of gist, [so] that's why I did it," Hooks said.
Hooks knew from the start that he wanted to be involved in the sports department in the Chronicle. He, along with other staff members, had new ideas for the sports section.
"We kind of had these big ideas for what we wanted to do senior year [such as] game recaps and player of the game," Hooks said.
Hooks was a part of the boys varsity soccer team and in his junior year he ran the soccer team's social media account. He came up with the Man of the Match which, after every game, one player from the team gets highlighted for their performance. Fellow staff member Cabot Butts took inspiration from Hooks Man of the Match.
"Player of the game was something he [Cabot Butts] came up with based off of one of my ideas," Hooks said. "He kind of wanted to do that with player of the game for the Chronicle and so that's how that kind of that came about."
Hooks is known throughout school for his big personality and positive attitude. He continuously perseveres through struggle and hardships regardless of the challenge. English teacher Gail Kline believes Hooks to be a problem solver.
"Ian is a hard worker," Kline said. "He is determined and whenever he meets with a setback, he meets it head on. He doesn't give up, he doesn't know how to quit."
Kline had Hooks as her student for his freshman year of high school. She believes Hooks will achieve great success in life because he demonstrates many qualities that are looked for in students.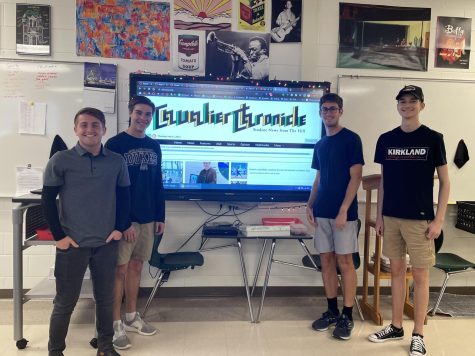 "I believe that he will be an asset to whatever college community he's a part of," Kline said. "He has skills that we want in people and I think he will be a positive influence on society."
In the fall of 2023, Hooks will attend Syracuse University with a major in broadcast digital journalism and sports analytics. In the future, Hooks just hopes to enjoy life and pursue his passion for sports.
"You got a lot of people who don't necessarily know what they want to do," Hooks said. "For me I want to have fun doing something I love. What do I love? I love sports and so sports broadcasting is the best."