Spencer Woodbury reflects on his relationship with the Chronicle
It is normal for representatives from each elective to stop by classrooms during scheduling. The objective is to quickly inform students about their elective and persuade them to take it. Spencer Woodbury was first introduced to the Chronicle through this process.  
"We had a couple of speakers come into our ninth grade class," Woodbury said. "They kind of talked about the program and I thought it was cool."
He started off as a staff writer but as his writing skills improved and he started to build close relationships with other staff members, he continued journalism. He believes his promotion to Editor-in-Chief stems from his continuity with the class and improvement.
"I stuck with the program the first couple of years and then I just developed my writing skills," Woodbury said.
One of the main reasons he enjoyed his time so much writing for the Chronicle was because he enjoys writing about his passions and things that interest him.
"It's been fun, I'm writing about what I enjoy," Woodbury said. "I write about a lot of my passions and I've had really cool opportunities to interview some cool people."
English teacher Rhonda Clopton believes Woodbury to be a creative thinker. The most she enjoyed about him were his opinions and their conversions.
"The thing I admire about Spencer is that when he is really passionate about something he gives it his all," Clopton said. "He has a unique perspective on the world so his opinions are interesting.
In the future Clopton hopes that Woodbury will always stay true to himself no matter the circumstance.
 "Some advice would be he should always be himself and not let anyone change him," Clopton said.
Life after high school is an extremely big step for seniors. Applying for college and finding the right major can be a real hassle. While some know from an early age what their dream career is, Woodbury is still trying to figure it out. He is considering a minor in journalism, but he is still unsure about what college he wants to attend and what major to choose.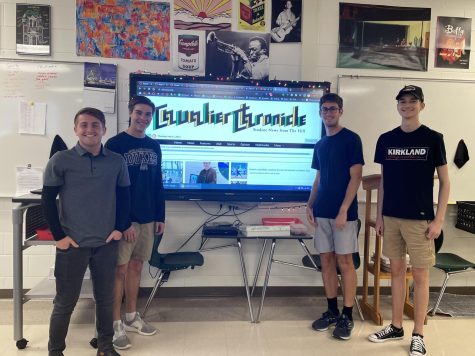 "I have considered it [journalism] as a minor," Woodbury said. "Honestly, I don't know what I want to major in so I'll figure it out."
The biggest memory Woodbury will take away from journalism is the relationships he has made and the people he has gotten the opportunity to meet. He is beyond grateful for his experience in the Chronicle as it has provided him with lasting and meaningful friendships.
"I've had really cool opportunities to interview some really cool people like Joshua Davis," Woodbury said. "We're just kind of a small little family. Not many people take journalism, so it was just a tight-knit group, and I've gained a lot of friendships from just interviewing people."