Hard work pays off for new orchestra teacher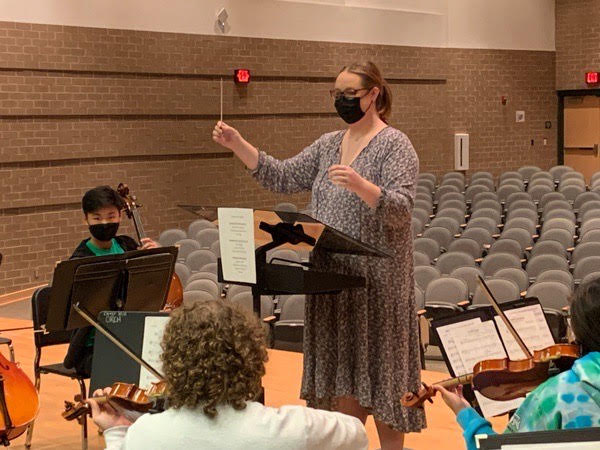 Hannah Grooms has joined the ranks of the performing arts department and has become the new orchestra teacher following the departure of Justin Williams.
Grooms, a graduate of James Madison University, has had her eyes on this role for many years.
"During my first year in regional orchestra during seventh grade we played this amazing piece, one of my favorites, and in that weekend program, I decided that I wanted to do music the rest of my life," Grooms said. "In high school, there were three teachers in particular over my four years of school that were like my second set of parents, and I wanted to be that for others by teaching."
After deciding that she wanted to be a teacher, another realization motivated her to pursue her teaching career in music.
"I realized, probably a day or two before my interview for the orchestra teacher position at Clover Hill, that actually my first senior regional orchestra event was held here back in 2010, and I thought what a cool opportunity for my first big regional orchestra event to be here and then come back to teach here," Groom said. "It felt very serendipitous and like where I was supposed to be the whole time."
Now an official member of the Clover Hill family, Grooms has set short and long term goals.
"My short term goal is to retain all my orchestra members going from this year to the next, and then my long term in the next five years is I would like to have double the number of people in my program: currently there are fifty people and I would like to have a hundred," Grooms said.
Grooms has also planned exciting in-person activities and events for her students.
"We have a lot of regional and county-wide events; I had five students just audition for senior regional orchestra," Grooms said. "Then, next month we will have all county, which is for anyone in Chesterfield County Public Schools, and then in January we will have CRO, which is for the Richmond area and open to freshman auditions."
On top of regional county-wide auditions, there are four to five concerts in the works, including the upcoming fall concert based on the theme: "Night at the Movies," with pieces of music from the Lord of the Rings and excerpts from Harry Potter. 
In order to make these events and activities possible, Grooms follows a very collaborative method of teaching and organization.
"I really like to have a collaborative class effort; I don't think that music has one right answer all the time, instead, I think it's open to interpretation ninety-nine percent of time," Grooms said. "I like to get my students', especially my older students', perspectives on things by asking their input and opinion; they got to vote on all the music they are playing."
Sophomore Lauren Moss and junior Nicholas Lyall are looking forward to seeing the new structure of their class. 
Lyall sees the effort and work being put into building relationships by Grooms in the classroom.
"Besides being very enthusiastic about music, Mrs. Grooms is a very welcoming teacher," Lyall said. "From my experience, she has tried to become every orchestra student's favorite teacher by accommodating all our needs and preferences; one example would be that she even comes to school on odd days, even though she does not need to come to school those days."
Moss feels that Grooms has given her a positive perspective on music with her fresh personality and methods.
"Mrs. Grooms has definitely given me a new perspective on music," Moss said. "I think some of my other orchestra teachers had a much different attitude on how to improve one's musicianship."
The music department and orchestra students welcome Grooms as a fresh face into Clover Hill with her evident passion for music and teaching bringing more originality into the already flourishing arts department at the hill.