Homegrown musicians finding way in RVA scene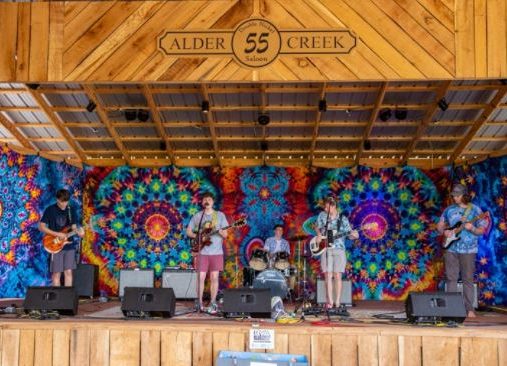 Clover Hill seniors Andrew Williams and Nate Lambert perform live music around the greater Richmond area with their band, RVA Fadeaway. The band consists of Williams on bass, Lambert playing guitar and their bandmates: guitarist and lead singer Abel Buell, guitarist Noah Lohr and drummer Jack Wharff. 
The group got together last fall when Lambert and Lohr decided to dive into the Richmond music scene after watching others play. 
"We decided that we wanted to try it out, so we found other people, Andrew included, and kinda just started playing together," Lambert said.
According to Williams, the new band quickly found success, far beyond the initial expectations of any of the members. 
"We did not expect exactly what we got," Williams said. "Our first real performance was last April and within ten weeks we had played ten gigs, including music festivals and breweries. It happened very fast. We were not expecting it."
The band performs songs from a variety of different artists, including Grateful Dead, Phish, and Billy Strings. According to Lambert, their preferred genre of music is jam band. 
"It's jam band genre, so [our style of music is] windy [and] experimental," Lambert said.
Both Lambert and Williams had prior musical experience to help them create RVA Fadeaway and then start performing within only a few months. Williams is a dedicated member of Clover Hill's band program.
"I have been in Band since seventh grade," Williams said. "I'm very involved in the band program at school."
Meanwhile, Lambert plays several instruments and has been practicing music for several years now.
"I don't do any band here at school," Lambert said. "I've just been playing guitar for like two years and picked up the mandolin like a year ago."
Still, they each credit everyone who has supported them and their bandmates for the growth of RVA Fadeaway.
"We have a really good community behind us," Lambert said. "That's really the only reason that we've been so successful because they've helped us out a lot."
Junior Chasen Rose attended a gig at Richmond's Mainline Brewery in November and enjoyed the experience. 
"Watching Fadeaway was very nostalgic in a way," Rose said. "They feel like a classic rock or country type of group. They are incredibly talented at what they do and it shows."
According to Williams and Lambert, the rest of this school year and the following summer will be an ideal time to see RVA Fadeaway perform.
"All of us except for one person is going to college [next year] so we were hoping to go out with a bang this summer, play a lot of [gigs] and then maybe just reunite every summer that we're back in Richmond," Lambert said. 
For now, though, they are focused on enjoying the experience of being able to perform their music while having a fun time with their friends.
"It's just a great time; we love jamming, and we love hanging out," Williams said. "We get to meet a lot of other musicians and see a lot of other bands as well."
According to Williams and Lambert, the band has plenty of performances coming up. "The second Sunday of every month we play at Bandito's Burrito Lounge, and our next really big thing that's coming up is a music festival in April," Williams said.
More information about upcoming events and more can be found on their website, rvafadeaway.com, or on their Instagram [@rvafadeaway] and Facebook [RVA Fadeaway] accounts.