Modern and classic holiday tunes help bring the Christmas spirit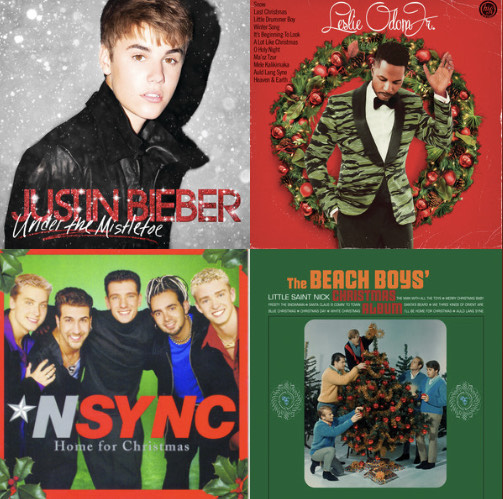 Yes! We have gotten to that time of the year. Obviously, I mean holiday/Christmas music season. Let me just get this straight! This is an opinion piece. I started out with a much larger list of Christmas songs, and using meaning, message, relatability, tone, and overall listenability, I determined my top ten Christmas songs. If you enjoy the list, then by all means add the songs to your Holiday playlist, if not then carry on with reading and have fun with the quick read. 
"God Rest Ye Merry Gentlemen" by Pentatonix 
Released in 2016, Pentatonix creates a masterful modern take on the Old English classic. With every "bum-bum-bum", the song gets more interesting and exciting. My heart rate increases, as the lyrics wistfully fly by. The acapella group, hailing from Texas, made up of Scott Hoying, Mitch Grassi, Kirstin Maldonado, Kevin Olusola, and at the time Avi Kaplan, creates such a wonderful, joyful atmosphere. Plug your phone into the AUX and start jamming out to this bop (and turn that bass up, too!).    
"Snowman" by Sia
Sia released a banger Christmas album back in 2017 titled Everyday is Christmas, which included this lovely tune "Snowman". Sia's talented voice is really highlighted in this song, as her unique tone and passion is perfectly utilized and emphasized in the song. While we get a nice little love song focused around a frosty snowman, the meaning behind the lyrics and purpose of the song goes a lot deeper. Back in 1997, Sia's known boyfriend at the time, unfortunately, passed away, and in this piano ballad, she reflects on her lost love and says that she will "never [leave]" him. Behind the true, sad meaning of the song and the pure uniqueness of it, makes it worth a spot in the top ten. 
"Mistletoe" by Justin Bieber
When pop meets Christmas, I'm all in! I am not going to lie here, Justin Bieber gets too much heat. Bieber has produced some real bops over the course of his still young career, including "Mistletoe". Out of his Christmas album, Under the Mistletoe, this song is easily the most popular song to come from it for all of the right reasons. Bieber says, "I don't want to miss out on the holidays, but I can't stop staring at your face", revailing that all he wants is love, which is another one of the general spirits around the holidays.   
"I Need You Christmas" by Jonas Brothers
If it is December and you are in your feels, then this is the song for you. The Jonas Brothers reminisce about the good ol days that they enjoyed together as kids around the holidays. Simple things such as the warmth of the fireplace, the angel sitting on top of the Christmas tree, waiting for Santa Claus, and singing Christmas carols late through the night. The general spirit of Christmas is a sense that is loved and herald; however, with the hustle and bustle of everyday life throughout the year, this spirit is often lost. The title "I Need You Christmas", reflects on the fact that we all need to feel this generous and giving spirit constantly, instead of just during the latter days of December.   
"Snow" by Leslie Odom Jr.
When Leslie Odom Jr. 's The Christmas Album was released last year, I was pumped. Being a fan of the Broadway musical, Hamilton (specifically a fan of Odom's character, Aaron Burr), I was all in for his Christmas music. I put in my headphones and was hooked on the opening song. That song just happened to be the one sitting right here at number sixth on this. Yes! "Snow" was the upbeat, joyful song that left me with a smile after hearing the entirety of the album, which overall is a solid Christmas album that I highly recommend.  
"Last Christmas" by Wham!
Released in 1984, "Last Christmas" has become a classic Christmas song that everyone seems to know. From the melody to the story behind the song, "Last Christmas" has been one of my favorite songs to listen to around the holidays. Everytime it plays on the radio, you can't help but sing along to the lyrics. George Michael, one of the prevalent voices of Wham! explained the message of the song being about a failed relationship and how the holidays trigger sadness, as everyone around seems to be in a loving relationship. It displays the depressing feeling of loneliness; however, at the end it shows that there is still the possibility of another and that hope is still out there, which is a mantra that we should all have. The catchiness of the song also adds to this song's resumé and that is why it ranks here at fifth. 
"That's Christmas to Me" by Pentatonix
Another Pentatonix song cracking the top ten, this time with "That's Christmas to Me". This heartwarming song celebrates the spirit of a traditional holiday. All the good, loving moments and memories created during the holidays are portrayed in this song. While Pentantonix is an acapella group that often makes renditions of other songs, this is actually an original and I rank it as their best overall song. The smooth, quiet verses quickly transition into the upbeat, fast chorus makes this song so pure and fun to listen to. It shows the best of both worlds when it comes to music, concerning the pace of the song (involvement of both fast and slow). Showing off and reminding us of what the holidays mean to all of us is one of the many reasons why I picked this song at number four. 
"lonely Christmas" by Bryson Tiller, Justin Bieber, Poo Bear
Just released this year, "lonely Christmas" places very highly at number three. I just cannot stop listening to it for some reason. While you probably have not heard this song yet, it is a whole mood. Usually, Christmas songs show off the good times of the holidays and emphasize family and friends are the fire. Well, this song shows us the other side of the holidays in a pop-y way. In Poo Bear's bridge, it says… 
"No candles lit for Hanukkah
Oh, I might as well be a Jehovah's witness
Now I know the meanin' of a silent night
On my own, ayy"  
Dang! While others are out admiring Christmas lights or having a toast, Poo Bear shows us the truth of some poor individuals' Christmas. In this case, it is meant to embrace heartache and loneliness in that sense, but around us people suffer and I think this song is meant to portray that and provide us insight into other people's positions. 
"Hallelujah" by Pentatonix 
While Hallelujah is not technically meant to be a Christmas song, many people still tie it directly to the Christian-based holiday because of its religious imagery, but also its a song that emphatically calls for praise and joyous celebration ("Hallelujah"). Because of that many people just seemingly classify it as a holiday song. The reason I love this song so much, directly correlates to the powerful imagery and message that the song declares. The song discusses love and loss, and how frequently love does go wrong, but through the tough times, we still should show joy, be glad, and share our love with others. The song embodies emotion and power, and Pentatonix does a great job of sharing that with the world through their passionate voices.  
"The Christmas Song" by Nat King Cole
The true classic of Christmas, "The Christmas Song" by Nat King Cole can be nothing short of number one. Originally released in 1961, Cole puts us in a place of calm and happiness. Through his crisp, soothing voice, Cole places us right by the fireplace that he vividly describes in the first verse of the song saying, 
"Chestnuts roasting on an open fire
Jack Frost nipping at your nose"
In a sense, that warmth and that pleasant atmosphere can be easily pictured in our minds because of the talent and timbre of Cole's voice. He creates this quant, yet perfect perplexion of Christmas, that makes us eager and inpatient for the fabulous holiday. Cole deserves tons of praise for his iconic Christmas song that will stay at number one till the day I die.