Student podcasting thrives in the Hive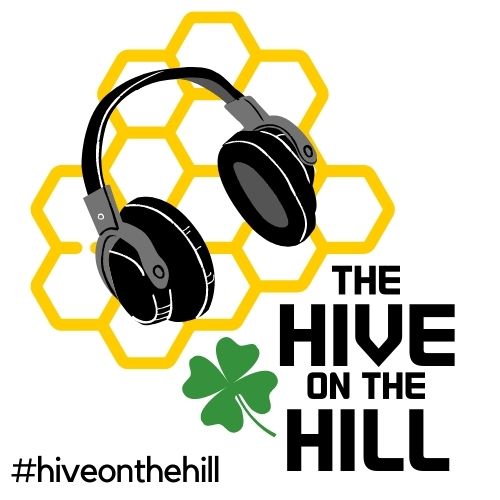 Among the new additions to the Clover Hill community this year, a podcast studio called the Hive on the Hill is officially ready for student use. Located in the classroom above the library, it boasts two recording stations with four microphones each.
The idea for the podcasting studio originated during the 2019-2020 school year, librarians Cassidy Capuano and Heidi Williams have spent the last year turning the room above the library into a functional studio. 
"Last year, with students not being here, of course, we had some extra time and money on our hands to get some additional equipment," Capuano said. 
The school wanted to create the studio as a way for students to express their interests and ideas and practice social skills. 
"Podcasting is really unique because it seems like 'oh you're just going to sit in front of a microphone and chat', but it can really encourage students to think creatively, to work on their collaboration skills," Capuano said.
Many teachers and students have integrated the Hive into their assignments and their personal creations. Several students from English teacher Billy Kaskay's class have used the studio for a project for his class where they discuss a topic that interests them. 
"About one-third of each class… are opting to use the professional podcast studio," Kaskay said.
Sophomore Timothy Ellis used the Hive for his history project, where he recorded a history-themed rap.
"It was an advantageous resource as it provided the best song quality for our rap song," Ellis said. "In the future, I want to go back into the studio and work on other projects. It was fun collaborating with my friends and making music."
Students are also allowed to use the Hive for their own personal projects. Junior Ian Hooks uses the studio to produce his own podcast, "And One with Ian Hooks," which he publishes on podcast platforms such as Spotify. 
"It's a lot easier than doing it at home because I just have time here and I have soccer after school anyways, so I just do it here," Hooks said. "[The podcast room] has a great soundboard and great equipment and I think it just works well with what I want to do and publish."
Hooks believes that the podcast studio is a way for students to express their perspectives on current topics and pop culture.
"It would be great for people to put their ideas out there and because we have a podcast studio, it makes it easier for them to get their ideas and their thoughts out there and get something started," Hooks said. "So I would love for people to take advantage of that and spread the word in a sense."
Kaskay agrees that producing a podcast in the Hive has value to students as a modern form of creativity. 
"A lot of students listen to podcasts in their free time already, and it is a more realistic writing and multimedia experience to create something modern and relevant," Kaskay said. "I hope my students will see themselves as having the potential to produce strong online content."
Students can sign up for time slots by contacting Cassidy Capuano over email or in the library.