Winter Olympics: Stars to watch in Beijing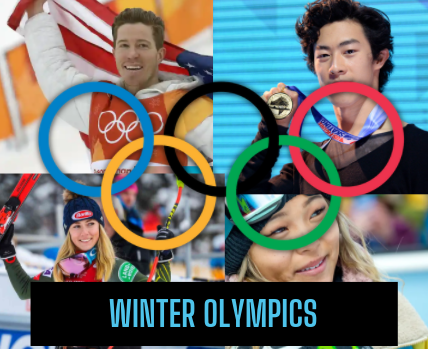 On Friday, Feb. 4, opening ceremonies for the 2022 Winter Olympics will commence in Beijing, China. Due to time differences, this event will air in America at 6:30 am on Friday. Team USA is set to field 224 athletes for the games this winter. 
Back in 2018, in PyeongChang, South Korea, Team USA totaled 23 medals, including nine golds, eight silvers, and six bronze medals, placing fourth in the overall medal count, with Canada ranking third, Norway ranking second, and Germany ranking first. 
Beijing will display some of the brightest stars in their various sports, including snowboarding phenoms Shaun White and Chloe Kim, alpine skier Mikaela Shriffrin, and the talented figure skater Nathan Chen.
White, 35, is competing in his fifth Winter Olympic games. The San Diego, Calif. native has won gold in the men's halfpipe event in three of the past four Winter games, with the exception coming in 2014 in Sochi, where he placed fourth.  
Kim is entering into her second games and has been the recipient of several first place titles. Since her Olympic debut in 2018, after winning gold in the women's halfpipe event, Kim has been the star of the show, going on to place first in the World Championships in both 2019 and 2021.
However, Kim has a few 'tricks' up her sleeve, having added new moves into her already advanced skill set. . While she will not reveal the added moves, Kim had this to say on the upcoming Olympic routine in an interview with Times.
"They're an upgrade from everything I've done… you [can] just expect a lot out of me. I'm going to go off," Kim said. The 21-year-old is surely the favorite to once again take home gold for her nation.
Shiffrin, a 26-year-old alpine skier from Vail, CO, has shown time and time again that she belongs on top of the skiing world. Her performance in the Beijing Olympics will likely continue to prove that. She participated in the last two Winter Olympics, which were held in PyeongChang in 2018 and Sochi in 2014. In the 2018 games, she won gold in women's  giant slalom, as well as winning silver in the women's  combined alpine. In the general women's slalom category, she finished just off the podium, in fourth position. In the 2014 Winter Olympics in Sochi, she took the gold medal in Slalom, while finishing in fifth place in Giant Slalom. 
"The thing I am most proud of right now is that I know how to win in slalom, [giant slalom], super-G, and downhill, which I never expected would really happen," Shiffrin said in an interview with NBC after her 2020 campaign.
Shiffrin has shown that she is a dominant force in her sport. In the year following the 2018 Winter Olympics, Shiffrin won 17 of 26 World Cup races. Fast forward to Jan 2020, and she has secured a 66th World Cup win, placing her third all-time in that category. Just before her arrival in Beijing this year, Shiffrin won her 73rd World Cup race, raising her to second in the all-time category; just behind the legendary Lindsey Vonn.
An outstanding figure skater out of Salt Lake City, Utah, Chen goes to Beijing feeling there is more to prove. The three time world champion participated in the 2018 PyeongChang Olympics at 18 years of age, where he finished just off the podium in fifth place. He posted the highest score of any free skater in Olympic history. 
Following the 2018 Olympics, Chen went undefeated for the rest of the year, while, of course, going on to win the World Championship that same year. He followed that up with additional undefeated seasons in 2019 and 2020. He placed first in all but one of his events in 2021 when he competed at Skate America in Las Vegas, NV. However, he turned right around the following week, placing first in Canada and winning the World Championship once again. Before leaving for Beijing this year, Chen placed first in the U.S Championships in Nashville, TN.
With a slew of gold medals sure to be won by Team USA over the next few weeks, American fans will likely gather around the TV to watch their favorite athletes compete. 
The games will last about two weeks, and will conclude with the Closing Ceremonies on Feb. 20.