Super Bowl preview and predictions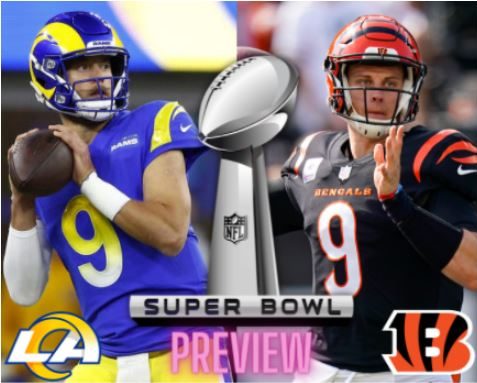 Super Bowl LVI is set. Joe Burrow and the Cincinnati Bengals will take on Matthew Stafford and the Los Angeles Rams at SoFi Stadium on Sunday, Feb. 13 at 6:30 pm EST. 
This Bengals offensive line has been atrocious all season. How can they stop or at least try to slow down this dynamic Rams front with Aaron Donald and Von Miller?
Ian Hooks: Well, to be frank, the Bengals line is not going to be able to stop the Rams defensive pressure at all. This is Aaron "FREAKING" Donald we are talking about for goodness sake! Add Miller into that equation, a crafty pass rusher himself, and you get pass-rushing heaven. Rams defensive coordinator Raheem Morris has been blessed with an abundance of riches, and he uses them to his benefit. While Morris' defense has blitzed 28.3% of the time this season, that rate ranking ninth in the NFL: however, I am betting on a lot of standard four-man pass rush scenarios, due to Joe Burrow's poise and the receivers at his disposal. Even if Burrow is sacked six times on Sunday, Burrow has shown confidence no matter what kind of pressure he faces and is still able to throw dimes in the face of adversity. 
Cabot Butts: The short answer to this question: They cannot. I mean, think about the makeup of the Rams defensive front. You have Super Bowl L MVP Von Miller, not to mention All-Pro defensive tackle Aaron Donald. They are not going to be able to stop them, but they can limit the pressure. I do not suggest running much play action on Sunday; that will make it too easy for the Rams. Instead, quick passes and screens are going to be the way to go. You have a versatile running back who can run after the catch at a very high rate. Checking down may be the best option for the Bengals, as frustrating Miller and Donald will lead to less pressure, and thus less sacks for your franchise quarterback. Double-teaming could also be a strategy for the Bengals, but in that scenario you have to choose. Who is the lesser of two evils? In reality, you are only going to be able to effectively double-team one man at a time. However, if the Bengals are able to tire out Miller and Donald, Joe Burrow should have no trouble carving the rest of the defense up.
Who is going to win the Jalen Ramsey/Ja'Marr Chase matchup? 
Ian Hooks: Jalen Ramsey has called for Ja'Marr Chase's number over the past week, so we can be prepared for the elite matchup. Chase has overperformed his rookie expectations this season, after a shaky preseason where we saw him drop a couple of easy passes. Chase has gone for 1,455 receiving yards and 13 receiving touchdowns over the course of the entirety of the season. Both of these stats rank in the top five in the league, making him one of the best receivers this season. In the NFC Divisional round, we saw Tampa Bay Buccaneers receiver Mike Evans go off against the all-pro cornerback Ramsey, catching eight passes for 119 receiving yards and a touchdown. Based on the recent tape I've seen from Ramsey, I am honestly nervous for the former Seminole. Chase has been tearing through defenses all season with his superb athleticism and incredible burst. Chase has been very impressive and because of that I actually expect him to win the matchup against the more experienced Ramsey. 
Cabot Butts: Ignore what you saw against the Buccaneers, Jalen Ramsey still poses that X-Factor that all corners hope to achieve. He got embarrassed against Mike Evans, I understand. However, he is a MVP caliber cornerback, and he is not going to get embarrassed two games in a row. Just look at his numbers, he is the sixth ranked corner, in terms of passes defended. He also garnered four picks on the season. Ramsey is no joke, and I do not see Ja'Marr Chase, as good as he is, being able to exploit his explosive cornerback matchup.
If Joe Burrow wins on Sunday, will he become the face of the NFL? 
Ian Hooks: Oh absolutely! Burrow just has a swagger about him that other elite guys like Aaron Rodgers and even Patrick Mahomes do not have. This guy legit was asked about his diamond chain, and responded with one of the best responses this season saying, "they're definitely real… I make too much money to have fake ones". Mahomes or Rodgers, while both great quarterbacks, do not have that same level of magnetism when it comes to attractiveness and likability. Yes, Mahomes has the magic! Yes, Rodgers has the skills! But Burrow has the SWAG! And of course the production to back it up.  
Cabot Butts: While it is hard to say 'no' to this question, you still have to think about the other quarterbacks in this league. Patrick Mahomes, Josh Allen, Aaron Rodgers, among others. It is hard to put in words what Joe Burrow has done to the NFL this year, but in order to become the face of the league, you have to show consistency, and in just his first full season, I have not seen that yet. 
It's that time! Who is taking home the Lombardi Trophy this year? 
Ian Hooks: Honestly, I am so excited for this one! Rams are clearly the better team on paper, but Joe BRRRR is too cold (pun intended). Chase is going to win his matchup against Ramsey, Mixon is going to be a competent option as a checkdown option out of the backfield, and then Tyler Boyd is going to be so crucial in this team's success as the slot option. Yeah, Matthew Stafford has been clean for the most part turnover-wise, but I feel like with the pressure coming from Trey Hendrickson and Sam Hubbard off the edges, they are going to be able to force Stafford to rush through his progressions and make him make tough plays. Calling it now, Chidobe Awuzie gets an interception, putting my money on it! 
Score Prediction: Bengals, 31 – Rams, 27 
Cabot Butts:  This is such a great matchup, not just on paper, but as far as skill level is concerned. You have Joe Burrow vs. Matthew Stafford, Ja'Marr Chase vs. Jalen Ramsey; sparks will fly. However, I do not see the Bengals being able to run the ball much, nor do I see them being able to torch Jalen Ramsey, like the Buccaneers. I think that was a fluke. Ramsey is not going to let that happen again, so I do not see the Bengals having much of an air game, especially since they are going to have to put tight end Tee Higgins in the backfield to block for much of the game. With that being said, I have the Rams taking this one.
Score Prediction: Rams, 30 – Bengals, 20