Chesterfield runner breaks American marathon record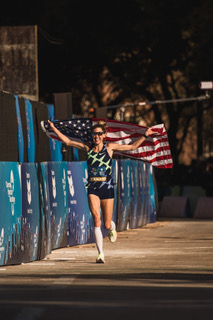 When Keira D'Amato crossed the finish line at the Houston Marathon on Jan. 16, the clock read 2:19:12. Her race was the fastest ever by an American woman.
The thirty-seven year-old mother of two and Midlothian resident broke the previous record of 2:20:36 held by Deena Kastor, which was set in 2006. She finished ten minutes ahead of her competition with a pace of 5:19 minutes per mile; the next closest woman ran with a pace of 5:42. She also previously set the womens' ten mile world record with a time of 51:23. 
D'Amato describes breaking the marathon record as a surreal experience that is difficult to fully comprehend. 
"It was a dream come true," D'Amato said. "I've been using that finish line as motivation for years when a race or run got hard or the weather was terrible and I'd ask myself, 'why am I doing this?' On January 16, I found the most beautiful answer. I'm doing this because I love it and I'm doing this to push the limits."
Now a professional runner for Nike and Flynn Sports Management, D'Amato lowered her times over the years to reach the record. After running in college, she had to stop due to injury, only to resume her training and begin racing again in 2016. She built herself back up as a runner and finished in 3 hours and fourteen minutes in the Shamrock Marathon in Virginia Beach in 2017. To do so, she took it one step at a time.
"The marathon is a long game, it takes a long time to train and a long time to race," D'Amato said. "It's seriously taken me years to figure out the pieces, the mileage, the speed workouts, the nutrition, and the mental space. I first ran a 5k, then ran a 10k, then got the courage for a half marathon, and it kept growing."
In the years since that race, she trained with patience and consistency and dropped nearly an hour from her time. She did not imagine that she would be able to set the American record but did know that she was not at her limits. 
"I set a realistic goal, work my tail off, hit [it] and think 'what's next,?'" D'Amato said. "I added enough of those "what's nexts" together and it led me somewhere really incredible. I worked really hard on endurance, speed, and strength, and I worked with an amazing coach who helped me get there."
D'Amato approached the race like it was a normal workout in order to reduce any pre-race stress. 
"I tried to treat it like any other day," D'Amato said. "That minimizes the pressure and stress for me." 
She considers it to be the hardest race that she has ever run, but she emphasizes that the effort was worth it for the achievement of crossing the finish line.
"It was mentally and physically taxing to run that hard for that long, which is what made the finish even sweeter," D'Amato said. 
D'Amato loves running because of the triumphant feeling of doing something that she once felt she could not do. 
"I love the daily adventure," D'Amato said. "I love the space in my day when I get to run. I love the freedom while running. I love that at some point in the run you think you can't go any farther, but then you prove to yourself that you can. That's such an amazing feeling."
She advises high school athletes to have patience and enjoy the ride of playing their chosen sport. 
"Sports are meant to be fun," D'Amato said. "Find your own way to make it fun and that's when the magic happens."
In the aftermath of breaking the American marathon record, D'Amato is turning her attention to training for international competition, including the 2024 summer Olympics in Paris. 
"I'm going to try to make Team USA for the World Track and Field Championships this summer," D'Amato said. "Then I'll get back to the marathoning and see if I can make that 2024 [Olympic] team."