Talent shines through unique mediums
Clover Hill offers several art courses for students to let their creativity shine and there are many talented artists working with a variety of mediums. Many young artists do not have the voice or resources to show the world their work and express their creativity. Three Cavaliers with original artworks shared their pieces and described their inspiration.
Senior Rachel Hagemeister works with a variety of materials including Photoshop and textiles. 
Art has many different possibilities and resources to work with, such as paint, photography and clothing, to name a few. 
"I'm very much a jack of all trades when it comes to the medium," Hagemeister said.
Using photoshop and textiles, they created a handmade cosplay of Hiccup from How to Train Your Dragon 2. 
"I've been in love with art and have been creating artwork since before Pre-K, but the first time I remember sewing something was making a handbag in 2nd grade to carry my stickers," Hagemeister said. 
Art often contains unique messages and symbols. Hagemeister actually used the movie to deliver a message in their own piece.
"When things go wrong in the movie, he always keeps his wits about him while coming up with an ingenious solution to the problem. Nor is he afraid to lean on others when he needs help. These are two traits I have worked hard to cultivate in myself, especially in regards to art." 
Hagemeister shared some inspiring words saying,
"The most important thing for me when creating a piece is capturing the moment of when I make it. What am I feeling? What do I hope to achieve? How can I work to move forward in life? Some form of emotion can be found in everything I have made and I hope to connect to others who feel these same emotions and see themselves in my art."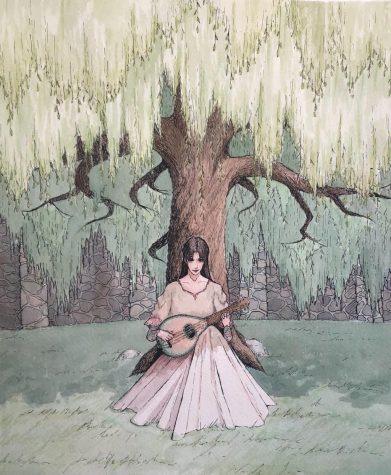 Senior Leah Partington works with a variety of watercolors and inks in a contemporary style.
Partington created a vibrant contemporary piece titled "Willowshade" using watercolor paint, pen and ink.
"I took my first serious art class in freshman year of high school, and ever since then I've loved experimenting with different mediums," Partington said.
Sharing her inspiration for the painting of "Willowshade", Partington said, "In this piece specifically, I was inspired by Edmund Dulac's watercolor illustrations. He uses rich colors and soft lines to create his dynamic illustrations and I really like his style." 
Partington included a few messages of her own in her painting.
"I attempted to capture a moment of inner peace, where nature and humanity feel in balance, brought together through music. I tend to incorporate my own experiences into my characters, and my mood into their environment, shown through color and light."
Partington mentioned what's most important for her when creating a piece.
"I'd say the most important thing for me when I create a piece is to convey the feeling of the environment to the viewer."
View Comments(1)
About the Contributor
Tyler Hamaker, Editor
Tyler Hamaker is a senior at Clover Hill with a strong interest in all types of arts as well as writing. He's currently a Journalism two student preparing...