The Cavalier Chronicle's official guide to March Madness
Chronicle sports writers Ian Hooks and Cabot Butts break down the NCAA Tournament with hot takes, upsets, region-by-region picks and much, much more.
West Region:
Gonzaga

Georgia State
Boise State

Memphis
UConn

New Mexico State
Arkansas

Vermont
Alabama

Rutgers/Notre Dame
Texas Tech

Montana State
Michigan State

Davidson
Duke

Cal State Fullerton
Player to Watch in this Region?
Drew Timme, Gonzaga
Listen, this is the WAC player of the year we're talking about. Not picking him as a player to watch is silly. Averaging almost 18 points a game with six rebounds and 3 assists, Timme has been a main reason for the Bulldogs' 26 win season. His athleticism, mixed with his versatility, and ability to shoot from anywhere makes him a legit threat for any team in Gonzaga's path.
— Cabot Butts —
Emmanuel Akot, Boise State 
This is honestly probably a guy that you have never heard of in your life unless you really follow the Mountain West conference. However, each time I watch the Broncos play, Emmanuel Akot just glows on the broadcast. Akot is a 6'8 ball handling guard with so much upside. Because of his larger stature, he is able to overpower smaller defenders, which I believe will pose a challenge to Penny Hardaway and the coaching staff of Memphis. Also, he has great length that allows him to block off the passing lanes and stand in the way of the driving ball handler, making it hard for players to pass to his defensive matchup and shoot over him. Akot is fun to watch and I hope we are able to witness him for more than one round. 
— Ian Hooks —    
Biggest Upset Possibility?
Notre Dame vs. 6. Alabama 
Of course, with this prediction, I am also predicting the Fighting Irish to win their play-in. I think that Notre Dame comes into the NCAA Tournament way too low in the rankings. I mean, they were a two seed in the ACC Tournament. There is no reason that they should be an 11 seed in the tournament. They are too good to be that low, and it will show. They can score the basketball really well. Just look at freshman guard Blake Wesley, junior guard Dane Goodwin, or even senior forward Paul Atkinson Jr. who are averaging 14.6, 13.9, and 12.3 points per game, respectively. This team can just flat out shoot also, with a field goal percentage coming in at over 46%. I have a feeling that this Fighting Irish team will roll over Rutgers in the First Four, while going on to defeat the number six seed in the West Region, the Alabama Crimson Tide. 
— Cabot Butts —
Rutgers vs. 6. Alabama
The Crimson Tide are entering the Tournament, losing three games in a row to close out the season. Alabama overall have been "meh" over the course of the entire season, showing that they can be special with big wins over Gonzaga and Baylor; however, have also shown that they are very inconsistent with losses to Georgia and Iona. With all that being said, I love what I have seen from Rutgers. Rutgers has all the key pieces needed in order to upset the Tide with both offensive minded threats and defensive minded masterminds all on the court at the same time. The Scarlet Knights are definitely a team I am considering naming the "UCLA" of this year's Tournament.  
— Ian Hooks — 
Overrated Team in this Region?
Arkansas Razorbacks
If I'm being honest, I just do not see the hype surrounding the Razorbacks this season. I understand that they had a very good regular season, but they also lost to Texas A&M in the SEC Tournament. On top of that, I don't see Arkansas being one of the best teams in the SEC, I don't even think they are as good as, say, a Tennessee, for example. They really don't have that 'star' player like some of these other teams in the tournament. I could see an argument for senior guard JD Notae, who's averaging about 18 points per game, but that's just one person. In order to make it in this tournament, you need more than one person to do the dirty work. Sorry Razorback fans, but I just don't think it's your year.
— Cabot Butts —
Duke Blue Devils
I completely agree that Arkansas is seeded too high; however, Duke really isn't that scary to me. Say I am Michigan State or Davidson in that 7, 10 game, I really would not feel like I am necessarily going to get wrecked by Duke in the second round. Duke has not lived up to their usual high expectations, despite the fact that they have great young pieces (once again!) in Paolo Banchero, Trevor Keels, AJ Griffin, and even the ACC Defensive Player of the Year in Mark Williams. Along with those four, filling out the starting lineup, you have junior Wendell Moore, who has really filled a much needed leadership role on this young Blue Devils squad. Obviously this is Coach Mike Krzyzewski's last hoorah, so there is a good amount on the line, but this Duke team just does not seem like a team built for a long run in the Tournament.  
— Ian Hooks — 
Underrated Team in this Region?
Davidson Wildcats
Coming out of the A-10, the Wildcats are a very dangerous team. Yes, they lost in the A-10 Championship to the 12-seed Richmond Spiders, but I see a lot of potential in this Davidson team. A LOT. Would it be crazy to say that this Davidson team may be as good as they were with current Golden State Warriors point guard Steph Curry? Maybe, but I'm going with it. I mean, they have four different players in double figures for points per game. Add to that, a sharpshooter in junior guard Foster Loyer. They also have a very talented defensive core that features senior forward Luka Brajkovic and junior guard Michael Jones. Jones especially has some very quick hands, as he was able to garner 32 steals on the season, while also doing work under the backboard, with 99 defensive rebounds. Long story short, I really like this Davidson Wildcats team, and think they can go pretty far in this tournament. 
— Cabot Butts —
Rutgers Scarlet Knights
Do not even get me starting on this Rutgers team. This is a squad, led by the clutchness and talent of seniors Ron Harper Jr. and Geo Baker. These two have really paved the way for the success that the Scarlet Knights have had this year against top-tier Quadrant One opponents, such as the upsets over Purdue, Wisconsin, Illinois, Iowa, and more earlier in the season. Along with Harper and Baker, Rutgers on the defensive side are led by Clifford Omoruyi and Big Ten Defensive Player of the Year Caleb McConnell. From the bottom up, this is a Rutgers squad destined to make it past Notre Dame in the first four and into a potential Sweet 16 run.  
— Ian Hooks —
Who Comes Out of this Region?
Gonzaga Bulldogs 
In reality, Gonzaga has a really easy road to the Final 4 here. With the exception of Duke, who I have out in the Sweet 16 anyway, I don't think there is any other team in the West Region that can hang with the Bulldogs. Looking at the Gonzaga lineup, we have a versatile Drew Timme, who really, in my opinion, is really special. They have a freshman, stud Chet Holmgren, and they have a talented passer in Andrew Nembhard, who is averaging almost 6 assists a game. With a talented trio like that, nobody is going to be able to stop Gonzaga en route to the first National Championship victory in school history.
— Cabot Butts — 
Gonzaga Bulldogs
Yeah, I really do not think there is much debate in the West Region of the bracket. Timme is going to have his way in the paint, with his lovely feint move, Andrew Nembhard is a lethal shooter and precise facilitator, Holmgren has shown flashes, and there is so much more talent with Rasir Bolton, Anton Watson, and Julian Strawther. While I do not believe the Zags will win it all, they will surely make it to another Final Four.  
— Ian Hooks — 
East Region:
    1. Baylor
Norfolk State
North Carolina

Marquette
Saint Mary's

Wyoming/Indiana
UCLA

Akron
Texas

Virginia Tech
Purdue

Yale
Murray State

San Francisco
Kentucky

Saint Peter's
Players to Watch in this Region?
Hunter Cattoor, Virginia Tech
Look, I know I should not judge a player by one game, but look at how he shot in the ACC Championship game. He went 7 for 9 from three-point range (77.8%). Cattoor caught fire on Saturday, shooting a whopping 66.8% from the field en route to an astounding 31 point performance which saw the 7-seeded Hokies winning the ACC championship and punching their ticket into the big dance. He was really able to shoot from anywhere on the court, and if he can keep a hot hand, watch out for the NCAA. Although averaging only 10 points a game, watch for Hunter Cattoor to make a huge splash in the first round versus the Texas Longhorns, and beyond.
— Cabot Butts —
TyTy Washington Jr, Kentucky
Oh my goodness! After watching this guy over the course of the season, this question really was a no brainer. Although there are many qualified players for this question, Washington has just been too good not to name. While he has only averaged 12.8 points per game, his vision and ability to knife through the lane and score in the paint is second to none in this region. Behind Washington and of course teammate Oscar Tshiebwe, Kentucky will be going to the Final Four.  
— Ian Hooks —      
Biggest Upset Possibility?
Virginia Tech Hokies vs. 6. Texas Longhorns
The Hokies are in a perfect position to upset Texas here. Coming off of an ACC Championship as a 7-seed, Tech seems more than able to roll through the Longhorns. The aforementioned Hunter Cattoor will likely play a huge role in this game, as well as senior forward Keve Aluma and senior forward Justyn Mutts, who are both averaging over 10 points per game. Another instrumental player to this Virginia Tech team is senior guard Storm Murphy, who has really heated up in recent play, especially in the ACC Tournament. All of this offense without even acknowledging the defense; this Hokies team is ranked 22nd in the NCAA in scoring defense, giving up 62.3 points per game. Both offensively and defensively, this Hokies squad is very good. I think that an upset here is very likely, if not certain.
— Cabot Butts —
Virginia Tech Hokies vs. 6. Texas Longhorns
I feel like this is more of a given pick after the performances we saw from the Hokies in the ACC Tournament; however, versus a very good defensive team in Texas, I feel like the Longhorns are getting overlooked in this matchup. With all that being said, Virginia Tech has one of the best offensives in the country and ranks as the third best three point shooting team in the NCAA. Cattoor is one of those key three point shooters, alongside Murphy and Nahiem Alleyne, but this team runs through their frontcourt in the versatile Justyn Mutts and experienced All-ACC Second Team member Keve Aluma. Expect Mutts and Aluma to have big assist totals in a win over the Longhorns, behind the team's lethal sharpshooting ability. 
— Ian Hooks —
Overrated Team in this Region?
Saint Mary's Gaels
In my opinion, Saint Mary's is not that great. I know, they beat Gonzaga, big deal. Their offense just isn't good enough. It just isn't. They are only putting up about 69 points per game, which isn't bad, but it certainly isn't good. Saint Mary's is going to be facing some really good offensive teams in this tournament, and if they are not able to score, they are not going to be able to win games, I don't care how good their defense is. Their leading scorer, senior forward Matthias Tass, only averages about 12 and a half points per game. That's not good enough. They need to efficiently shoot the ball, score, and share the ball. For now, I just don't see Saint Mary's getting out of the second round. 
— Cabot Butts —
Murray State Racers
The Racers, led by Tevin "Skipper" Brown and KJ Williams are an intriguing team, to say the least. While they have a tremendous record of 30-2 with one of those losses coming against the two-seeded Auburn Tigers, I have to declare that Murray State is overrated. Who have they played beyond Auburn? Exactly! Legit, Murray State is 17-0 against Quadrant Four, like dude where are those Quad One wins?! Plus, they have a strength of schedule of 190th in Division I. While San Francisco may not seem vicious to the amateur fan, the Dons are being seriously overlooked.  
— Ian Hooks —
Underrated Team in this Region?
Murray State Racers
They went undefeated in conference play. They had 30 wins and two losses this season. Do I need to say anything more? This Murray State team is being severely underrated, it's about time to prove everyone wrong. They have an x-factor in junior forward KJ Williams, as well as a versatile athlete in Tevin Brown. In addition, the Racers share the ball, and I mean they can really share the ball. They muster almost 15 assists per game, some of the best numbers in the tournament. If you ask me, this Murray State team is in a very good position to make a run in this tournament. 
— Cabot Butts — 
San Francisco Dons
It is all about the guard play up in here! Jamaree Bouyea is a bonafide scorer, averaging almost 17 points per game and shooting close to 47% from the field. Khalil Shabazz is very similar to Bouyea, but just shoots slightly worse from the floor at about 40%. Filling out the double-digit scorers for the Dons, Yauhen Massalski has been a very productive big all season long. Massalski has been a pain for defenses and offenses alike, putting up double digits in scoring and rebounds on the regular, as well as punishing smaller guards on the other end with his 2.2 blocks per outing. The truth is not enough amateur college basketball spectators have witnessed the dynamic backcourt duo in San Francisco and I am ready for them to put the beating to Murray State.  
— Ian Hooks —
Who Comes Out of this Region?
Purdue Boilermakers
I do not think that Purdue is rated as highly as they should be, especially as a three seed. While they may not be the Purdue team of year's past, the Boilermakers have some really special talent. Really, they have everything you could ever want in a team. They have talented sharpshooters with Jaden Ivey and Trevion Williams, who are averaging 17.4 and 11.7 points per game, respectively. You have a phenomenal big man and Zach Edey, who averages almost eight rebounds per game. You also have some really good passing and ball movement. I watched the Big 10 Championship Game, and it was relatively sloppy for Purdue, but I believe that when the team hits on all cylinders, they can be a really tough task for anybody else in the tournament. 
— Cabot Butts — 
Kentucky Wildcats
The Wildcats have debatably the deepest team in all of college hoops. In the backcourt, Washington leads the charge; however, beside him is a fantastic off-the-screen shooter in Kellen Grady and a premier passer and defender in Sahvir Wheeler. Then, in the frontcourt is in my opinion the player of the year in Oscar Tshiebwe, who has been averaging over 15 boards a game, a very athletic, versatile big with Keion Brooks Jr., and even Jacob Toppin putting in minutes off the bench.   
— Ian Hooks — 
South Region
Arizona

Wright State/Bryant
Seton Hall

TCU
Houston

UAB
Illinois

Chattanooga
Colorado State

Michigan
Tennessee

Longwood
Ohio State

Loyola-Chicago
Villanova

Delaware
Players to Watch in this Region?
Peter Kiss, Bryant 
The six foot, five inch guard out of Bryant is averaging almost 26 points per game! That puts him atop the nation, and he shows no signs of slowing down. I'm aware that Bryant will need to win their play-in game, but I believe that Peter Kiss, as well as the rest of the Bulldogs offense, will find that task easy. Their next task would be to face the one seeded Wildcats out of Arizona. While their chances of coming out on top of that game are extremely slim, watch for Peter Kiss to lead Bryant into the Round of 64, as well as a potential run against Arizona.
— Cabot Butts —
Zakai Ziegler, Tennessee
I am a huge fan and advocate for the quick, pesky, playmaking point guard and that is exactly who Zakai Ziegler is. While Ziegler may not be the best shooter or scorer (or even the best guard on his team! *Kennedy Chandler*), but it is what Ziegler is able to do on the defensive side that draws my attention. Ziegler's tenacious attitude is what allows him to average almost two steals per game, and also probably his smaller 5'9 frame. Ziegler will surely contribute to the huge final four run that I believe the Vols will make. 
— Ian Hooks — 
Biggest Upset Possibility?
Chattanooga Mocs vs. 4. Illinois Fighting Illini
I absolutely love this matchup, and I feel like it was a no-brainer to pick. The Chattanooga Mocs are a sneaky good team — leave the door open, and they will come in. They are so good at capitalizing on the opponent's mistakes. For example, they have over seven steals a game, with almost 16 points off of turnovers. Offensively, they average 75 points a game, which is insanely high for a mid-major school. Chattanooga is primed for an upset in this game.
— Cabot Butts — 
UAB Blazers vs. 5. Houston Cougars
Honestly, I feel bad for the Cougars, who with their best player in guard Marcus Sasser are actually electric and very dangerous; however, with Sasser going down with an injury well before the new year, this Houston team has just not been the same. While they do have five players averaging over ten points per game, this is a Blazers squad that can pack a punch. Led by the swift junior guard Jordan Walker (who averages 20.4 points and 4.8 assists per game), UAB will upset Houston in a very tight matchup. 
— Ian Hooks — 
Overrated Team in this Region?
Colorado State Rams
I don't get why everybody is so high on the Rams this season. I don't necessarily think that the Rams are 'all that.' In my opinion, they don't really have any playmakers. Aside from David Roddy and Isaiah Stevens, who else do they have? Nobody. I mean you could argue for junior guard John Tonje, but is he really who you are going to depend on? This season, it shocks me that Colorado State was able to even attain a six seed in the tournament. To me, this team just is not good enough, and will certainly have their hands full with an 11-seeded Michigan Wolverines team in the Round of 64.
— Cabot Butts —
Michigan Wolverines
Now on the other side of the same matchup, how the heck are the Wolverines even in the Tournament?! Like seriously! This is a Michigan team that went 17-14 in the regular season and were only two games above .500 in conference play. Besides sophomore big-man Hunter Dickinson this team does not impress me whatsoever. While Cabot may bring up the weaker Mountain West Conference schedule, this is still a conference that was able to put four of its teams in the final field of 68. Michigan also turns the ball over around 12 times per game, which is not a formula for any success. 
— Ian Hooks — 
Underrated Team in this Region?
UAB Blazers
UAB is poised to make it to the Sweet 16 this year, you can count on that. If you look at their run in the Conference USA Tournament, they were really only contested by a very good Middle Tennessee team. Offensively, this Blazers team is very good. Four of the five starters for this UAB squad average 10 or more points per game. When added up, the Blazers average an astounding 80 points a game. UAB is going to depend on junior guard Jordan Walker and senior guard Quan Jackson, and justifiably so. They are averaging upwards of 15 points per game, and are terrific playmakers. I said it earlier, and I'll say it again: the UAB Blazers are a lock for the Sweet 16.
— Cabot Butts — 
TCU Horned Frogs
I just feel that TCU is just a likable team. They are not particularly amazing in any one statistic, but the persona of this team is just attractive. Sophomore guard Mike Miles leads the Horned Frogs in points per game at 15, and honestly is the true leader of this team, but what can be expected from this team is banging bodies in the interior. Miles and the Frogs like to play from the outside and in; work the ball around the perimeter, feed it to Emmanuel Miller or Chuck O'Bannon Jr. and finish at the rim. If the Horned Frogs are able to do this, then they can be a tough beat for the one seeded Arizona Wildcats. 
— Ian Hooks —   
Who Comes Out of this Region?
Arizona Wildcats
The 2022 Arizona Wildcats are such a good team. Coming out of the Pac-12, I think it was flat out disrespectful that UCLA was favored to win that conference championship. They have four elite level shooters who average double figures per game: Bennedict Mathurin, Azulos Tubelis, Christian Koloko, and Kerr Kriista. I know that Kriista is injured and will not play on Friday, but I think that those other three scorers are going to be able to negate that loss, and Arizona is going to be able to show again what they have all year: They can ball out. 
— Cabot Butts — 
Tennessee Volunteers
There are so many factors and players I can use to prove why Tennessee will win the South Region. I will start by saying that they are one of the hottest teams in college hoops, winning 12 of their last 13 games. This is no easy task, especially in a tough SEC conference, where you have a handful of ranked, competitive opponents. Led by a speedy, collected guard in Kennedy Chandler the Vols are destined to go far in March. Santiago Vescovi is sure to knock down a handful of perimeter shots. Josiah-Jordan James is a blossoming wing player that plays with athleticism and toughness. John Fulkerson is the experienced player in the frontcourt and Zakai Ziegler plays a scrappy type of basketball that is fun to watch, but obnoxious to play against, making opposition dislike the young freshman. With that in mind, I have the Volunteers advancing out of the South Region and I have them doing so in flying colors. 
— Ian Hooks —   
Midwest Region
Kansas

Texas Southern/Texas A&M Corpus Christi
San Diego State

Creighton
Iowa

Richmond
Providence

South Dakota State
LSU

Iowa State
Wisconsin

Colgate
USC

Miami
Auburn

Jacksonville State
Players to Watch in this Region?
Isaiah Wong, Miami (Fl.)
One of the best players in the ACC in my opinion, Isaiah Wong has everything you need. He can shoot, he can play defense, interior and perimeter, he can play make, he can do everything. Averaging 15.2 points a game, two assists, with almost five rebounds, Wong is a guard who can play like a big man. At just 6 foot 3 inches, Wong can hang with the bigger offensive players like anyone else. Although the blocks are not particularly prevalent for Wong, he can play the interior as well as any forward in the country. All in all, Isaiah Wong is, I think, one of the best players in this region.
— Cabot Butts —
Jordan Bohannon, Iowa
What can I say about Bohannon? Well, he is a LIGHTS OUT SHOOTER!!! Did you see this guy go absolutely bonkers in the final minutes against Indiana in the Big Ten Semi-Finals? Three clutch threes against Indiana to close it out and that is the type of play you can expect from a veteran player such as Bohannan. Keegan Murray is sure to draw most of the defensive attention from opposing teams, this allows Bohannan to have more space to do damage from the perimeter. Expect Bohannan to be lighting up the courts all through March with his dazzlingly long range ability!
— Ian Hooks —    
Biggest Upset Possibility?
South Dakota State vs. 4. Providence Friars
This may be unpopular, but I feel that this was a pretty easy game to pick. The Jackrabbits have the second best offense in the country, in terms of scoring, with an astounding 86.7 points per game. Their offense is going to have to carry them, and it will, with senior forward Douglas Wilson. Wilson averages 16.5 points per game, but that's not what separates him from the rest of the team, and region as a whole. Wilson shoots at 57.4%, which is good for 20th in the country. The South Dakota State offensive is going to run through Douglas Wilson, and that is why they are going to win against Providence. 
— Cabot Butts —  
Colgate Red Raiders vs. 3. Wisconsin Badgers
For the third year in a row, the Red Raiders are back at it again in the big dance out of the Patriot Conference. Like always, this team can shoot! Colgate is the second best three point shooting team in the country (shooting 40.3% from behind the arc), only behind the South Dakota State Jackrabbits. Five players average over double-digits in points and guard Jack Ferguson is the most reliable scorer on this team. 
— Ian Hooks —
Overrated Team in this Region?
Wisconsin Badgers 
Anybody who opposes me on this is wrong, they just are. Wisconsin is way too overhyped as a three seed. I'll give you three reasons why, shooting, tempo, and lack of playmaking. The only offensive they have is Johnny Davis. He's averaging 19.7 points per game, but he never passes the ball, and that can be said about the Badgers' team as a whole, as they only average 11 assists per game. They are also such a slow team; the tempo of this Wisconsin team is so bad. When I see a five on four or five on three EVERY SINGLE POSSESSION, something is wrong. Wisconsin is way too slow to make it anywhere far in this tournament. Sorry Badgers fans, but your team just isn't that good. 
— Cabot Butts —
LSU Tigers
When I think of a team that could make a quality run in March, I envision a veteran lineup with electric shooters and quality bigs that can stretch out to the perimeter and knock down shots as well. This perfect team also needs to be smart in their decision making and execute quality passes and limiting turnovers. Well, the Tigers are not this perfect team. In retrospect, they are actually quite the opposite being a very young team, losing almost their entire starting five from last year. Plus, LSU is rather careless with the basketball, turning over the basketball at too high of a clip for my liking. With this in mind, they are facing off versus a very good defensive team in Iowa State, which leads me to taking the first round upset over the Tigers. 
— Ian Hooks — 
Underrated Team in this Region?
Iowa Hawkeyes
They've got offense. They've got defense. They literally have everything. They even have an x-factor in 225lb sophomore forward Keegan Murray, and he's not the only one. This is an Iowa squad that averages almost 17 assists per game, which is a lot more than some other teams in this region, and even the tournament. Their defense is spectacular, that's a huge part of their game. I'm saying this without even mentioning their offense, which is also spectacular. The aforementioned Keegan Murray, as well as senior guard Jordan Bohannon are both star players, averaging 23.6 and 11.1 points per game, respectively. This Iowa Hawkeyes team is severely underrated this year, and I believe that they are the best in the Midwest region.
— Cabot Butts — 
Miami (Fl.)
Wong has already been mentioned, but what he can do when he gets in the paint is real, but I really enjoy watching Charlie Moore and Kameron McGusty. Moore is playing in his fifth college basketball season on his fourth different team. In his first season as a Hurricane, Moore has posted solid numbers at 12.6 points and 4.5 assists per game, but the energy and experience that Moore brings compares to no one else in the ACC. McGusty, similarly to Moore, is also in fifth season (third season with the 'Canes). McGusty was excellent in conference play for Miami, posting almost 18 points per game, while shooting 48% from the field. These numbers all contributed to McGusty being named First Team All-ACC, which is no easy achievement. This Hurricane team can really pull off the win against a USC team, which has been cold of late, despite the long, tall talent. 
— Ian Hooks —
Who Comes Out of this Region? 
Iowa Hawkeyes
Like I said before, Iowa is severely underrated. Their offensive combination of Keegan Murray and Jordan Bohannon is unmatched. Add to that a staunch defense, and this team is unstoppable. The Hawkeyes have one of the most balanced teams in all of the tournament, and that will show as we will see them in the Final Four later this month.
— Cabot Butts — 
Iowa Hawkeyes
For all the reasons that Cabot and I have said above, this Hawkeyes team is really in a region of their own with the exception of one tough roadblock. Kansas is the only team that could stop Iowa and if the two teams were to meet it would not be until the Sweet 16. If the Hawkeyes can catch some fire in March, which I expect, then no one will be able to stop Murray, Bohannan, and Co. as they reach the Final Four. 
— Ian Hooks —
Final Four
Gonzaga Bulldogs vs. Purdue Boilermakers
Arizona Wildcats vs. Iowa Hawkeyes
— Cabot Butts —
Gonzaga Bulldogs vs. Kentucky Wildcats
Tennessee Volunteers vs.  Iowa Hawkeyes
— Ian Hooks — 
National Championship
Gonzaga Bulldogs – 82
vs.
Arizona Wildcats – 76
— Cabot Butts —
Kentucky Wildcats – 69
vs.
Tennessee Volunteers – 63
— Ian Hooks — 
Ian Hooks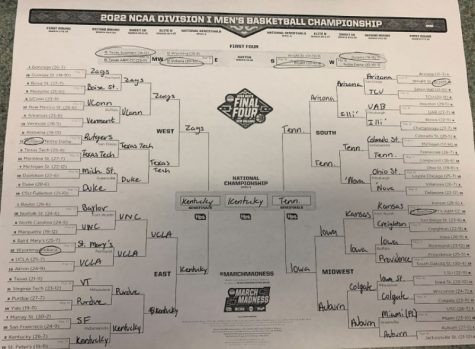 Cabot Butts