Women's History Month Spotlight: Margaret Sanger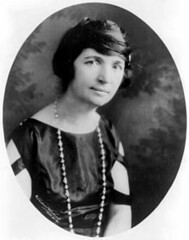 This article is the fifth in a five part weekly article series that will feature famous historical female figures for the month of March. This week's feature will deal with Margaret Sanger, founder of the revolutionary birth control movement in the United States.
Born on Sept. 14, 1879, Margaret Sanger was the sixth of eleven children. Sanger went to Claverack College, and immediately trained to become a nurse at the White Plains Hospital in New York. She practiced obstetrical (perinatal) nursing. As a nurse, she witnessed the connections between poverty, infant and maternal fatalities, uncontrollable fertility, and failed abortions which in turn led to death. This led Sanger to start a feminist movement that would give women the right to avoid unwanted pregnancy.
In 1912, Sanger gave up nursing to pursue the production of birth control; she published a series of newspaper articles and magazines devoted to this topic, including "What Every Girl Should Know," and The Woman Rebel. Four years later, Sanger opened the first birth control clinic in the United States in Brooklyn, New York. However, she was arrested in 1917 for 'maintaining a public nuisance,' in which she served 30 days in a Queens penitentiary. While in jail, Sanger presented the first issue of her periodical The Birth Control Review, which helped to crystallize the public opinion on birth control. 
After her release from the Queens penitentiary, Sanger underwent a series of legal appeals, which worked to grant physicians the right to give medical advice to patients about birth control. Those appeals also forced the federal government to reinterpret the Comstock Act of 1873.
In 1921, Sanger founded the American Birth Control League and served as its president until 1928. The league was a parent company of the Birth Control Federation of America, which would soon change its name to the Planned Parenthood Federation of America in 1942.
Sanger believed that selective breeding will improve future generations of humans – an idea that reigned supreme in the 20th century. Her revolutionary work with birth control forever changed the landscape of society, by giving women more of a choice when it comes to a subject like this.