Soccer teams confident through early play
Both of Clover Hill's varsity soccer teams began the 2022 season with two consecutive wins. 
The girls' team won 9-0 against L.C. Bird on the road in their first game and then beat Manchester 6-0 at home in their second. However, they then fell to Douglas Freeman 4-0 and 9-0 to Midlothian. 
Sophomore Ellie Diehl, who plays center midfield, feels that the Cavaliers played well in the first two games, especially when it came to moving the ball and scoring on offense. 
"In the Bird game I thought we did really good connecting passes and we took a lot of shots on goal," Diehl said. "So I thought we took advantage of that. And then the Manchester game I just thought we had a really good game. Like we were going up the field and we were taking a lot of shots on goal and I just thought we had a really good game."
She sees the wins over L.C. Bird and Manchester as a confidence booster in the early portion of the season.
"It gives you an adrenaline rush for the season, so it's always nice to start off on a high point," Diehl said. 
Diehl thinks that the Cavaliers started off well in each half in the Douglas Freeman game but ultimately struggled to complete passes against the defending regional champions. She hopes that they will get another chance to play Douglas Freeman later in the season in the regional playoffs. 
 "I think they were a good competitor to play against," Diehl said.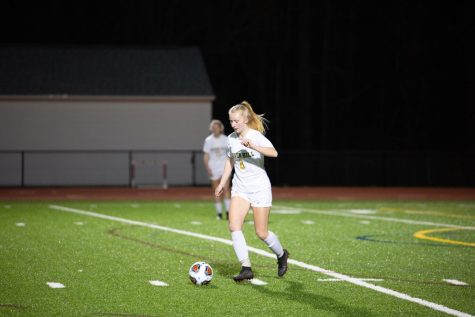 Coach Charles Anderson feels that the team has worked hard at practice and in games, as well as with teamwork and support for each other. He feels that the contributions from a number of players will translate into success later in the season. 
"We played hard throughout the game and did have some bright spots with our midfield play from Riley Wampler, Ellie Diehl, Katie Morton, Ariel Farmer and Katarina Stollsteimer," Anderson said. "The Cavs also had some great defense with Gabby Flynn, Maddie Cheatham, Mariet Nester, Ella Williams and Lauren Moss leading the way. We have a ways to go and a lot of things to improve upon to get where we need to be to make a run at Regionals but I believe we can do it."
Diehl has hope that the Cavaliers can win games in the regional tournament, especially if they make improvements. In particular, she wants to get better at winning the 50/50 balls. 
"I'm looking forward to watching our team evolve," Diehl said. "I think the more that we play and the more we practice the better we can get, and I definitely think that we can make it far this year."
The boys started with three straight wins; 6-0 against L.C. Bird at home, 5-4 at Manchester, and 2-1 against Midlothian. It was the team's first win against Midlothian in four years. Senior Chris Chavez leads the team with four goals and four assists. The Cavaliers' other goals belong to Luci Jara, Chris Hedricks, Dom Campo, Ian Hooks, Adam Selby and Harrison Dorgan. 
Though the boys have yet to lose a game, they had to forfeit the game against L.C. Bird for using a bench player late in the game who had played in the junior varsity match earlier that day. The rule violation ended up making their official record 2-1. Sophomore Luci Jara does not believe that the forfeiture will harm the team's chances in the regional tournament. 
"I honestly don't believe [that it will]," Jara said. "I am very confident in our team and believe we can go very far."
Junior Michael Hunter is happy with the team's start because it is an improvement on last year and a strong way to begin the season. 
"It feels really good. Compared to last year when we started off slow, I'm just glad that we were able to start this season off with some really good, hard fought team wins."
He had confidence in the team's ability heading in, so he is not surprised by the early results. Hunter also believes that it shows the improvements that the team has made since their losses in preseason scrimmages. 
"Even though we lost our first two scrimmages, those games told us what we needed to do to get better, and the team really responded well to the initial losses," Hunter said. 
He feels that the team did an excellent job fighting through adversity to ensure a win in each of the first three games. 
"The game against Manchester got a bit hectic at the end, but we were all able to keep each other level headed and get the win," Hunter said. 
Jara agrees that the team played well, and he is proud of his own individual performance in the early part of the season. 
"My favorite part so far in the season was my [overtime] goal vs Manchester for the win," Jara said. 
Hunter hopes that the team can improve with time on the small aspects of their game, like playing faster. His goal for the rest of the season is to go as far as they can, including winning the regional tournament. 
"We are aiming for the top," Hunter said. "The team hasn't been able to find the success that we would hope for the past couple of years, and I think that everyone on the team is trying to win everything that gets put in front of us."