Sia Chaudry swings big
The sun was only beginning to rise, but Sia Chaudry was already at the tennis courts. She would practice her sport for an hour and a half before school while other students slept. And after that she still was not done. Once school ended, she would return to the courts for more training. 
The years of practice were all part of the process that made the Clover Hill star into the number one womens' tennis recruit in Virginia for the class of 2022 and earned her a spot on the Naval Academy's team. 
Chaudry started playing tennis at the age of seven after watching her older brother play. Prior to tennis, she had participated in a variety of activities including swimming, piano, violin and dance. 
"I saw my brother play and I really looked up to him, so I really wanted to play," Chaudry said. "Then I fell in love with tennis and just stuck to that."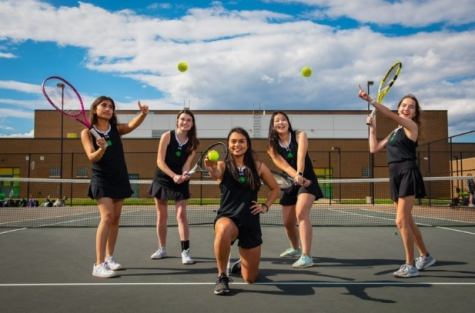 Over the last ten years, Chaudry has played in national and international tournaments. Her performance in the tournaments earned her five stars as a tennis recruit. In addition to being the state number one, she reached as high as the top 40 in the national rankings for the class of 2022. 
"I have won some national tournaments and gotten second, third, or fourth in many of them as well," Chaudry said. "There are many that I have participated in over the years and traveled to during the school year. It has always been a great learning experience for not only my tennis but for life as well."
Chaudry's tournament schedule did not leave her with enough time to compete for Clover Hill in her freshman and sophomore years. However, she was able to join the team for her junior and senior years of high school following her commitment to play division one tennis at the Naval Academy in college. With the Cavaliers, she won this year's regional singles championship and became a state finalist.
"In freshman and sophomore year I didn't play for Clover Hill because it was really hard to balance that with traveling for my tournaments too," Chaudry said. "I have to be committed to [the team] and not skip all the matches. Last year it was online so I had more time to play for the school. After I committed I had even more time to play for the school so I'm playing this year too."
She is thankful that she got the chance to play for Clover Hill's team because she was able to play with and against other girls more often. For the same reason, she is looking forward to joining the Naval Academy's team. 
"It's been fun because usually where I practice around this area in Richmond there aren't many girls here, so I have to play with a lot of guys," Chaudry said. "Although playing against the guys is a fun experience and it benefits me in tennis, I missed playing alongside girls."
Senior Jailyn Mabe plays tennis with Chaudry for the Clover Hill team. She considers her positive attitude and work ethic to be an asset to the team and the reason for her success in tennis. 
"She always tries her best," Mabe said. "She always helps us get better and she also brings lots of joy and laughter."
Currently, Chaudry trains every day, either with the school team or on her own when she can book a court. She uses a mix of sport-specific training on the tennis court and overall fitness work in the gym. 
 "My training has changed each year depending on what my needs are [at that time]," Chaudry said. "In the summers I have more time, so in the summers it looks more like three or three and a half hours a day. But now with school there's only like an hour and a half."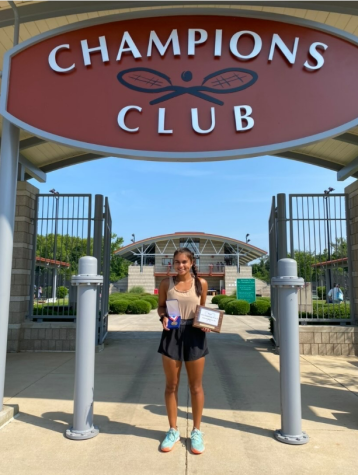 For Chaudry, the hard work has paid off in the form of her state ranking and commitment to the Naval Academy. She is excited for the opportunities that playing in college will give her. 
"It feels pretty good," Chaudry said. "I'm proud of what I've accomplished but I'm also very thankful that I get to compete and travel and be able to meet new people and still go to school."
She did not expect to end up at the Naval Academy, but she was able to connect with the team during her recruitment and found that it was a fit. 
"I had no idea that I would actually be going there," Chaudry said. "But with the recruiting process the coaches contact you if they're interested. So the coach contacted me and I really liked him and I really liked the people on the team."
She decided to attend the Naval Academy even though her family has no military background because she feels it is a unique opportunity.
"I visited the school twice," Chaudry said. "I had an unofficial and an official visit and I really liked the experience that I had when I went there. And I really liked the values and the people there. It seemed like a really fun experience that I'd never get [anywhere else]."
She believes that her time at the Naval Academy will help her grow as a person and as an athlete while also providing her with a chance to serve her nation. 
"I just want to be the best I can be as a person and [enjoy] the new experiences there and accomplish things that I've never thought I could," Chaudry said. "Especially in the Navy or just the [military] tasks that we do there."
She credits her family, friends, and coaches for helping her get to this point because she feels that none of her accomplishments would have happened without them.
"I am very grateful for the support and guidance they have given me over the years," Chaudry said.
She will arrive in Annapolis early for an Academy training program called Plebe Summer before starting the actual school year. She hopes that the program will help her figure out her plans for the future regarding her choice of major and the capacity in which she will serve in the military following graduation. One part that she is sure about is her goal for collegiate tennis; She wants to continue with the sport that she loves. 
 "In tennis, I just want to be the best I can be in college and try to keep going as far as I can because playing through juniors was a big part of my life," Chaudry said.