Varsity softball eyes Regional play following strong season
In 19 games this season, the varsity softball team posted a 16-3 record, partly thanks to their potent offense that averaged over eight runs a game. That record placed them atop the 5C Region as well as the Dominion District as a whole going into the playoffs. Led by coach Kyle Marable, the team held an impressive eight and two record over its final 10 games. 
The only blemishes on the Cavs résumé are a barnburner loss versus the Cosby Titans on April 14, a three run loss against the Midlothian Trojans on May 5, and a one run loss to the Powhatan Indians on May 12; the scores were 7-5, 5-2, and 2-1, respectively.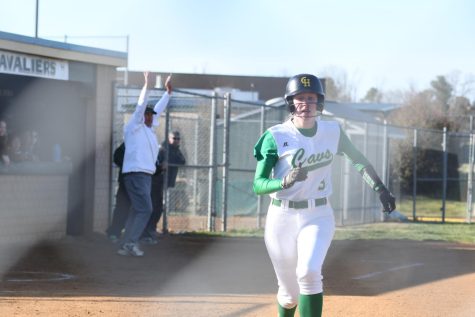 The team began its season with a resounding 14-0 win against J.R. Tucker, which started a five game winning streak that put them at 5-0 on the season. 
Following their 5-0 start came the aforementioned loss to Cosby, however, they went on a six game winning streak before dropping a game to Midlothian. In fact, in that six-game winning streak, they only let opponents get within four runs once. 
Most recently, the Cavaliers won a 18-0 blowout of the George Wythe Bulldogs on May 19.
While offense seems to dominate the mindset of this Cavalier team, defense is also very much important, especially in the form of pitching. 
Returning this year to the team, junior pitcher Angelina Branch feels that her role in helping the girls succeed, is to give other teams around the county new looks at the Clover Hill squad.
"[My pitching]… it's a different look for the [opposing] teams," Branch said. "Honestly, other teams don't expect us to be any good, but when we come out and do our best, it kind of throws them off."
Branch attributes the success of the team, as well as her own success, to there being a young presence on the team. Possessing only one junior and one senior, this Clover Hill team is built by an emphasis on young blood, both at the top and bottom of the lineup. 
"Our team overall is really young anyways, so we need to bring a lot of energy together," Branch said. "I feel like that part of the team environment kind of helps us."
Branch, as well as the team as a whole, says that they look towards younger players in key moments throughout the game. She says that the freshmen on the team pose the most aggressiveness on the field, which allows for them to score early on opposing teams. 
"We look [to] our freshman, honestly," Branch said. "I feel like they have the best attack and the best aggressiveness towards the ball. It really hypes up other players to do the same." 
Speaking of freshman, third baseman Maddy Hayes feels that the team as a whole allows for everybody to have fun. That, she says, is why they are so good; they do not overthink too much.
"It's a really good team," Hayes said. "I like how everybody is cooperative with each other." 
Defensively, Hayes remarks that she plays third base, a position that can be hard to handle for many players. However, she does not feel that she should be taking all of the credit for the defensive success this year. 
"Everybody's part of a team, so I wouldn't take a lot of credit," Hayes said. "I don't really get as many balls hit to me as a shortstop or outfielder."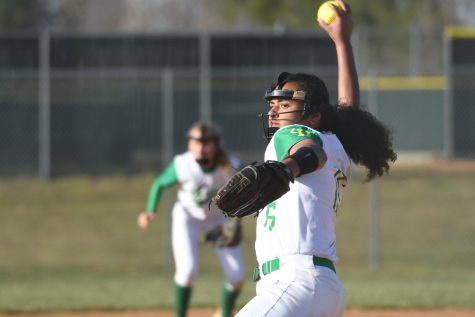 On the offensive side of the ball, however, Hayes says that her success on the field comes due to her humbleness and general calm persona. She believes that as long as the ball is put in play, good things will happen.
"For me, I just try to hit it somewhere," Hayes said. "At least get a hit."
As for Hayes' hopes for the playoffs, she wants to be able to bring a championship back to The Hill. Whether it be a state championship or regional championship, Hayes believes that a win would have an immense impact on Clover Hill.
"I just hope we do well," Hayes said. "I kind of hope we just [win]." 
Sophomore shortstop Allana Overby has also proven to be an integral part of the team. Like the other girls on the team, Overby believes that the way the entire team works together is what makes the team what it is.
"I love that we are all best friends, so it makes our team compatible," Overby said. "That is why we win."
Being a returning player on the varsity team from last year, Overby has one of the most influential opinions on the level of play. Overby says that the play has changed dramatically from last year to this year. 
"Last year, I feel like we didn't have enough time to connect with the seniors, so I think that this year is a little bit different in that respect," Overby said. "We're all really close friends."
Overby believes that the reason that the offense of this Cavalier squad is so great is due to the time the team spends watching film in preparation for the next game.
"We study the pitching of other teams before the game so we know what we're facing," Overby said. "And then… we [execute by] just hitting the ball in games."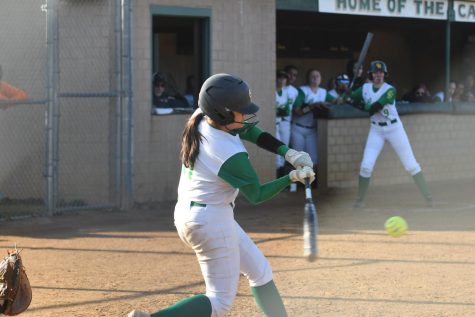 With such a tremendous regular season now in the rearview mirror for the Cavalier team, it is now time to focus on the playoffs. 
Come out to support the Cavs on May 26 at 5:00 pm, as they begin their postseason run. Due to their record, the Cavs received a first round bye, pushing their first game back from May 24. Their opponent has yet to be announced. 
Leave a Comment
About the Contributor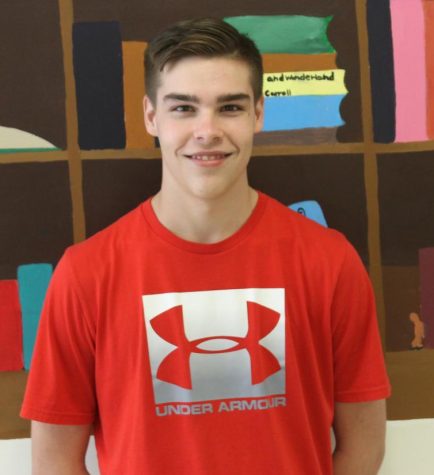 Cabot Butts, Editor-in-Chief
Currently a senior at the Math and Science High School at Clover Hill, Cabot is very much interested in the world of sports. He is currently in his second...