SCA turns attention to next year following election
After weeks of candidates campaigning and placing posters around the school, the Student Council Association election is complete and the votes are counted. 
The SCA officers for the 2022-2023 school year will be president Jaden Kline, vice president Ava Harmon, secretary Isabella Bushey, treasurer Weslie Rosenberg, historian Serenity Martin, and social media chair Quyen Nguyen. 
For Kline, it is "amazing" to win the position of president. He had thought about being the SCA president from the time he arrived at Clover Hill as a freshman, but he never felt that he would be bold enough to run for the office. However, that changed when he served as junior class president this year.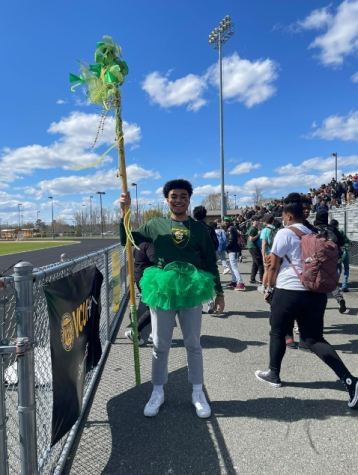 "Being the Junior Class President really made me realize how much I liked representing the students' voices and improving our school culture as a whole," Kline said. "So, in being a class president and now the SCA president it feels like I can finally truly represent the entire student voice at Clover Hill and it's an extremely exciting feeling."
Harmon, also a rising senior, feels the same excitement about achieving her goal of winning a position in student government.
"It feels great, I'm really happy people voted for me," Harmon said. "[After] last year when I didn't win, I kept going to make sure I achieved my goal."
To earn their positions, the new officers campaigned for the students' votes for weeks along with the other candidates. They used a variety of tactics including social media posts, promotional posters, and passing out candy. Harmon considers the campaigning process to be a stressful but crucial part of earning votes.
"You have to make sure you cater to the right audience and make sure you get your name out there," Harmon said.
Kline used several different posters to spread his message and earn votes in his competitive race. 
"The campaigning aspect of the election was amazing," Kline said. "The second I knew it was going to be a competitive pool of candidates was when I began making creative posters that I thought would make students laugh at a time when we all needed it, but also provide a message on what I want to accomplish next year."
Those plans for next year include ensuring that all students are able to participate in planning school events. He feels that it is especially important to ensure that everyone is involved after the rebuilding year of 2021-2022 following the return to in-person school. He hopes that in the upcoming school year students can once again experience the Clover Hill traditions that were absent or modified during the last few years due to the COVID-19 pandemic. 
"My goal this [upcoming] year is to embrace every student's views and opinions to bring back the joy and excitement that comes with being at Clover Hill. I want the students to help dictate themes and events and decide what they want to see done, with it being carried out by my fellow officers and myself. Together we will make this year the best one yet."
He already has a few specific ideas for how he wants to accomplish it, and he emphasizes that more plans will follow.
"I want to make sure homecoming is a welcoming event for everyone to attend, but also bring in aspects of the prom that I assisted in planning last year that made it special," Kline said. "Bringing everything but a backpack day to Clover Hill is something that I am strongly advocating for. Revamping our student sections and allowing the students to help dictate the themes, along with building our student turnout to all sporting events. [I want] class olympics and competitions at pep rallies."
Harmon agrees that the SCA's goal is to make sure that all students have a say in making decisions for their school. 
"[I want] to make sure everyone has a great year, and we let the students decide on more things," Harmon said. 
Kline believes that the value of the SCA is that it provides students with an opportunity to dictate their experience at Clover Hill. 
"Simply representing the students of all grade levels throughout the year is the true role of the SCA," Kline said. "Building the school community and making sure that what it means to be a Cav is truly heard by all members of the community."