Senior Sunrise kicks off new school year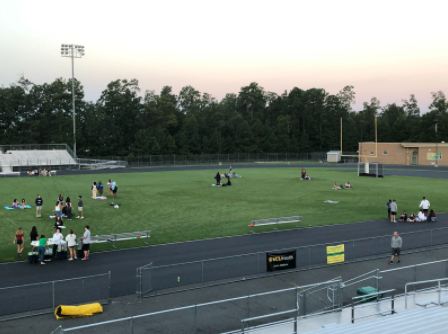 On Aug. 26, in a first for Clover Hill, the senior class met on the football field early in the morning to watch the sunrise. 
The event, called Senior Sunrise, took place from 6-7 a.m. and featured free donuts and drinks. It was organized by the Student Council Association (SCA) as a kickoff event for the new school year. 
SCA President Jaden Kline decided to hold a senior sunrise because the students wanted to bring it to Clover Hill. 
"I promised that I would listen to what the students wanted throughout the entirety of the school year, and multiple students had brought it to my attention that we'd never had one," Kline said. "I took the feedback and talked to my fellow officers where we decided it's an event that Clover Hill should have because of how great of an opportunity it is for all seniors."
To organize the event, Kline and the other SCA officers emailed principal John Phillips and obtained his approval. Then, they worked with senior class sponsor Victoria Kirtley to plan the specifics.
"We decided on donuts and drinks for the seniors and a time that we felt was best," Kline said. 
Senior Braxton Horoschak believes that it was worth waking up early to go to the sunrise. 
"It was very fun to see lots of friends in the morning," Horoschak said. "Everybody was a little tired and messed up but there were doughnuts and juice boxes so you can't complain." 
Kline also feels that it went very well and believes that the students enjoyed the opportunity to spend time together before school. 
"The turnout was remarkable, especially for it being 6:15 a.m., and I heard nothing but great feedback from the seniors who attended," Kline said. "It was a great way for seniors to socialize and enjoy time together that allowed for everyone to embrace that this really is their senior year."
He hopes that this is just the first of many events for students this school year. Right now, he is focused on homecoming. He also has plans to create tailgates, volunteer opportunities, a glow event, a cookout, a talent show, and support crowds for sports and performing arts, along with anything else that students want. 
"There's a lot on the horizon and I can't wait for the students to see everything we're planning," Kline said. 
As for senior sunrise, Kline hopes that it becomes an annual tradition on the Hill. He feels that it "100%" should return next year. 
 "It should happen every year for each senior class to enjoy because I feel like it really helps welcome in the school year and last ride for seniors," Kline said.