Berardo, Matthews and Khalid shine in Cavalier victory over Manchester
On an evening full of competitive game play, awe-inspiring digs and breathtaking spikes, the boys volleyball team took on a ferocious Manchester Lancers squad last night. Following a back-and-forth battle, the Cavaliers proved successful, taking the match three sets to two, improving their record to three and two in the regular season.
The match saw the Green and Gold win the first set, by a score of 25 to 23; however, the win did not come without mistakes. Miscommunications and other unforced errors caused the Cavaliers to drop the second and fourth sets by scores of 25 to 19 and 26 to 24, respectively. 
The aforementioned fourth set saw a very large turn of events. The Cavaliers ran the score up to as high as 22 to 13 before the Lancers clawed their way back and took the set, forcing a final tie-breaking set. 
With the game tied at two sets a piece going into the final set, which was played to 15, fans and parents of the Cavs found their hearts pounding out of their chest in the intense action that ended with the Cavs taking the set 15 to 13. More importantly, the set victory resulted in the match win for the Cavaliers.  
Junior Brayden Berardo turned in an outstanding performance. While only scoring three kills for the team, Berardo was able to assist teammates on 22 occasions while winning the Cavalier Chronicle's Player of the Game award. On the other hand, senior Bryce Matthews finished many of Berardo's assists and produced 17 kills in the five set match.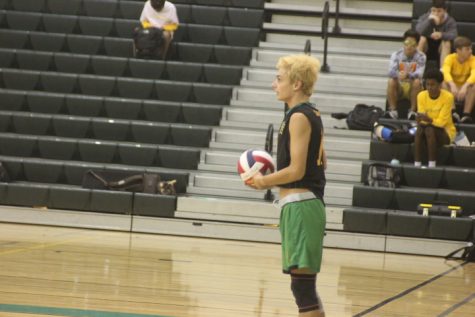 Also instrumental in the Cavalier victory last night was junior Ibrahim Khalid. Khalid contributed 10 kills in the game and in addition was able to block a crucial Lancer spike to score a point for the Cavaliers. 
The win last night was certainly a momentum boost for the Cavaliers. The team will be looking to keep up their performance in their next match on Tuesday, Sept. 13 at Midlothian High School.