Clover Hill implements new bathroom policy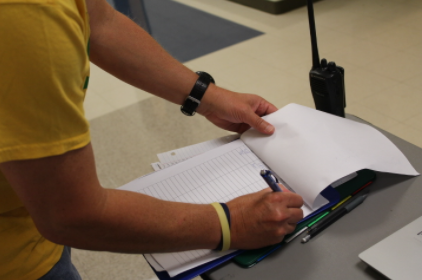 Clover Hill has adopted a new bathroom policy for the 2022-2023 school year.  
The new rules require students to sign out on a sheet of paper and take a pass with them to the specific bathroom assigned to their class. When they arrive, the student places their pass on a table outside of the bathrooms for the attending teacher to sign and record the time. 
Junior Elyse Ivery believes that the rule changes are excessive and restrictive.
"People are just going to go against the rule so there is no point," Ivery said. "It treats us like children and takes away from some of our freedom."
English teacher Scott Monroe feels that sitting at the tardy station is not exactly fun but that it is a step in the right direction.
"I think it's better than what we've had in the past, being a slight upgrade from last year," Monroe said. "It should keep traffic from the bathrooms small and provide supervision, so it should be helpful."
Senior Mckenzie Arroyo also does not like the new policy. They believe that it takes time away from teacher planning time. 
"I don't like it but I understand why it's the new policy," Arroyo said. "It's not a good solution because it is too much and takes away from teachers' planning period. It just feels unnecessary, but I think it will stay for the rest of the year."
However, social studies teacher Jeff Milner says that the new policy is an improvement that keeps students where they need to be while inside the building.
"I think so far it's keeping kids in the right part of the building thus they are in class more," Milner said. "The policy is an upgrade from what we had in previous years because there is more responsibility for students when going to the bathroom and getting back to class." 
The administration's hope is that the new bathroom policy will prove to be a stepping stone for creating a more controlled environment while making sure students are where they need to be. If this new policy proves to be effective, it is safe to expect it to return in the 2023-2024 year at Clover Hill.