Cavs fall short at Cosby despite Douglas' run game
An extremely impressive performance by senior running back Shawn Douglas proved not enough for the Cavaliers offense, as they dropped last night's game to Cosby by a score of 37-6. Douglas' performance consisted of 153 yards on 25 carries, enough to easily win him the Cavalier Chronicle Player of the Game award for the second consecutive Friday. 
Scoring in the game started early, with Cosby taking an early seven to zero lead eight minutes into the game. The Titans were able to add to their lead with another touchdown with nine minutes left in the half.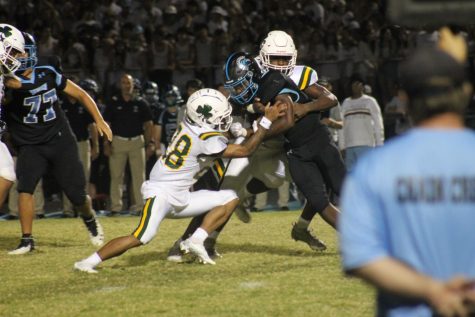 The Cavaliers were able to come within eight points at the end of the half, thanks to the first touchdown of the season. Sophomore quarterback Malachi Swain connected on a pass to sophomore receiver LaTrell Green (#14), who caught the ball for the 19-yard score. 
Coming out of the half though, Cosby was able to score a quick touchdown 53 seconds into the third quarter off a very explosive run down the center of Clover Hill's defensive line. The next offensive drive saw the Cavs make a charge down the field, again in large part by Douglas. However, the drive soon stalled as Swain threw an interception while trying to reach his target Green. Green finished with three receptions for 37 yards, and of course the one touchdown catch.
Defensively for the Cavaliers last night, junior Andre Williams (#1) led the team with nine tackles; four of those for loss. Williams also recovered a fumble and broke through the Cosby offensive line for a sack late in the fourth quarter. Williams has been voted as an Honorable Mention for Cavalier Chronicle Player of the Game having won the Player of The Game poll posted on the Cavalier Chronicle's Instagram account at halftime. Senior defensive end Justin Jones also contributed six tackles, while senior captain and linebacker Jackson Drewry had four.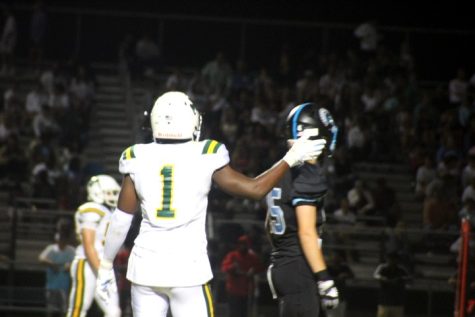 With the Green and Gold having started the season with a zero and three record, they will look to bounce back in a big way in their next game. The Cavs will be back at The Hill next Friday as they look to tackle the Huguenot Falcons (0-3).