Collins' and Carter's impressive performances unable to turn the tide for the Cavaliers
Last night, the Cavaliers played in a competitive, back-and-forth battle against the Powhatan Indians. 
Highlighted by a massive second set comeback by the Cavs, they were quickly able to jump out to a two set lead. However, Powhatan was able to come back, winning three sets in a row to take the match. 
The Cavs won the opening set by a score of 25-17. Junior Virginia Collins proved extremely instrumental in the first set, as well as in the entire match; she contributed 11 kills and two blocks on the night. Additionally, Collins produced four aces in her many service opportunities throughout the match. 
Only the duo of sophomore Sophia Carter and senior Izzy Carter had more service opportunities on the night with 20 and 19, respectively. S. Carter produced seven aces in the match, while I. Carter had four. While Collins received the Cavalier Chronicle Player of the Game award based on her illustrious performance, I. Carter's performance was nothing to scoff at either. Not only did she contribute the aforementioned four aces, she had nine kills and two blocks.
Likely the most competitive of the night, the second set saw the Cavs make a double-digit point comeback. In the set, the Green and Gold went down by as many as ten points, before going on an 18 to five run, winning the set 25-22. While unforced errors on Powhatan's part proved to be a key part in the Cavaliers' success in the set, many incredible digs and powerful spikes also played a pivotal role. 
By the third set, the Cavs were in prime position to win the match in a sweep. However, Powhatan remained competitive, as they won the close battle by a score of 25-21. 
Perhaps the most dominating set of the night came in the fourth, as Powhatan was able to show their offensive prowess. While the score may have been close due to the number of unforced errors by the Indians late, Powhatan decisively won the set by a score of 25-18. 
With the match tied at two sets a piece, the Cavs and the Indians played in a fifth and final tie breaking set to 15. While competitive towards the beginning of the set, the Indians were able to pull away en route to a 15-11 set win, resulting in a three to two match win.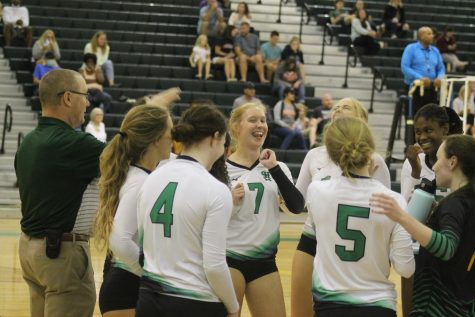 With the loss last night, the Cavs record drops to four and three. However, they will look to find their groove in their next game, at The Hill again, against the undefeated Midlothian Trojans (5-0) tonight at 7 pm.