Students attend NASA summer academies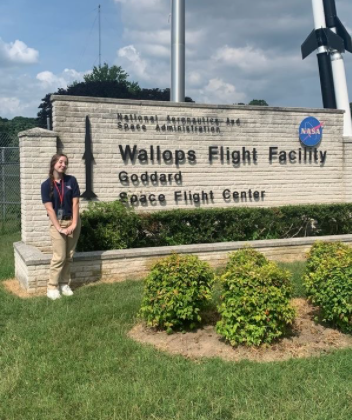 Over the summer, students from all over Virginia participated in the NASA Summer Academy programs, including several from Clover Hill. Students had the opportunity to collaborate on projects, run real-time simulations, and engage with scientists at NASA facilities.
Virginia Earth System Science Scholars (VESSS), Virginia Aerospace Science and Technology summer academy (VASTS), and Virginia Space Coast Scholars (VSCS) are all programs offered by the Virginia Space Grant Consortium for high school students. 
These programs allow students to network with NASA professionals and serve as a launching pad for those who are interested in STEM. 
Michelle Huber, a VSCS teacher and science teacher at Clover Hill, spoke openly about the benefits of these programs. 
"I have witnessed that students gain lasting friendships, networking relationships with NASA professionals and for some, a new found confidence in communication and teamwork," Huber said. 
The programs piqued the interest of junior Alena Stone, a VSCS participant, because she wants to become an engineer. 
"The program really caught my interest because it's something I want to do after high school," Stone said. "I'm really interested in space and would like to study aerospace engineering." 
From Nov. through April, sophomores in the VSCS program must complete an online class. Top students are invited to an all-expenses-paid summer academy at the NASA facility on Wallops Island for a seven-day educational experience. The format is the same for VESSS and VASTS, but the scholars are juniors and seniors, and the summer academy takes place at NASA's Langley Research Center with the students housed at Christopher Newport University.
Throughout their time at NASA, students learn about NASA missions as well as the many platforms and missions for conducting science in space. As the week winds down, students are tasked with creating a mission and presenting it to NASA employees. 
Stone enjoyed the experience of doing VSCS because it offered the opportunity to work on a mission at NASA and learn hands-on about a career field she wants to pursue. 
"You get to work with other students with the same interests on fun projects and you get to see lots of behind the scenes at NASA," Stone said. "It was really cool to be able to talk to real NASA employees as well as ask questions, and in the end give a formal presentation."
Nicholas Braun, a Clover Hill science teacher and VSCS instructor, maintains that the program's focus is to teach students about science and NASA with the goal of preparing future scientists and engineers. 
"The focus of the program is to learn more in depth about NASA and the different platforms that NASA's Wallops Island Flight Facility uses," Braun said. "The scholars get a much deeper understanding of the purpose of missions. Scholars continue to learn more about astronomy, space exploration, and technology used to improve the observation of our earth."
The programs are free and available to any Virginia student. Applications opened on Aug. 15 and will close on Oct. 24 for VESSS and VASTS and on Oct. 16 for VSCS.