Despite winning third set, girls volleyball falls short versus Midlo
The Cavaliers fell short to the Midlothian Trojans, who remain undefeated through their first six games of the regular season, while the Green and Gold move to four and four on the season. The atmosphere was great, and the students in attendance definitely brought a spark that would have otherwise not have existed.  
Entering the matchup, the Cavs were heavy underdogs, as the visiting Trojans are the favorite to win the Dominion District at the end of the season; however, despite being heavily overlooked, the Cavs put up a fight.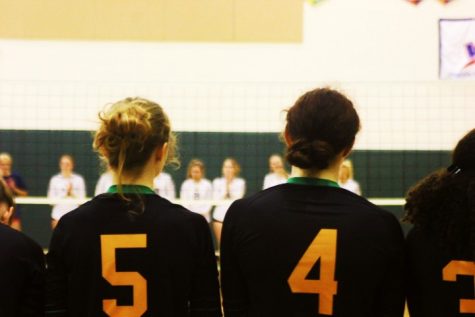 The story of the night for Clover Hill's side were the quick starts that later turned to slower ends in the sets. In the first several sets, the Cavs saw early leads fall as time progressed in each set. In the second set, the Cavs jumped to an early 11 to one lead, thanks to some offensive production from the duo of senior captain Izzy Carter (#5) and junior outside hitter Virginia Collins (#4). 
Carter finished the match with nine kills; however, she dominated the team assists totals with 13, being an impactful facilitator, making her the Cavalier Chronicle's Player of the Game. For Collins, her ability to be strong and crisp above the net was so evident, as she added nine kills to the count.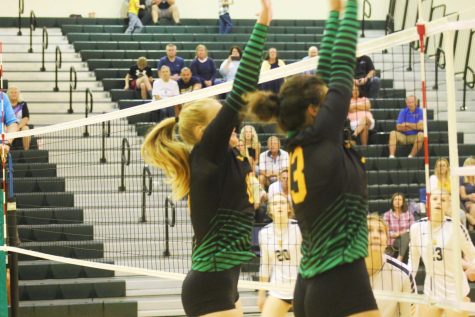 Defense was also a key factor in this match, as the Cavaliers had to counter spikes from Midlothian's outside hitters. Juniors Alyssa and Addison Thompson (a.k.a the Thompson Towers) combated the Trojans' pop, combining for ten blocks. The two totaled six and four blocks, respectively.   
Overall, this game showed how competitive the Cavaliers can be come playoff time.
Prior to the matchup, Midlothian had only dropped one set in their first five games, which came against Cosby's squad. However, Clover Hill was able to add to that, winning the crucial third set 25 to 22 in the match. 
Moving forward, the Cavaliers hope to eliminate unforced serving errors, and will attempt to do that tonight, Clover Hill will face off against rival Cosby (5-4) at 7 pm in their first meeting of the season! The theme for the match is USA, so come out, support and be loud!