Class officers get to work following elections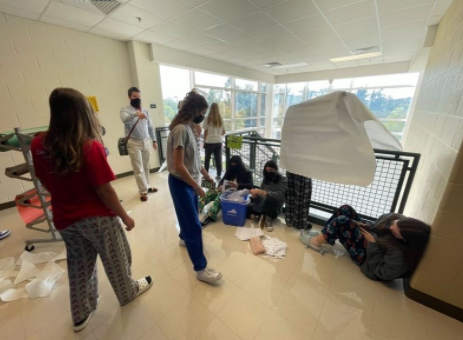 With the announcement of the election results on Sep. 16, the new class officers are set to begin their duties for the 2022-2023 school year.
The class officers will decorate their class' section of the hallway for homecoming and work with the SCA on ideas and planning for spirit week and special events for students. 
Seniors
The senior class will be led by president Jackson Bechtold, vice president Gabby Baracat, secretary Destiny Smith, treasurer Justin Escamilla, and historian Anahi Vazquez Farina. 
Bechtold is focused on working with the SCA to prepare for homecoming. Though he is still getting used to the role, he has ideas that he hopes to be able to use.  
"I want to get some high quality decorations out for homecoming," Bechtold said. "I have a theme in mind and a certain motif that I think will be interesting. 
After homecoming, he wants to plan events for the senior class that have never been done before at Clover Hill. 
"I want to see if I can mix things up [and] get some interesting senior social concepts going," Bechtold said. "There's a lot to do with the senior class. And I think everybody's itching to get some activity."
He believes that he and the rest of the officers are already working together well as they take on their new responsibilities.
"There's a nice feeling of shared responsibility between the senior cabinet," Bechtold said. 
Juniors
Timothy Ellis will head the junior class' officers. He will work with vice president Ryan Ward, secretary Bella Avila, treasurer Lauren Moss, and historian Nefertiti Hernandez.
Ellis's initial idea for homecoming is a class olympics at the pep rally where the officers from each class can compete against each other. 
"[I want to do] things like sports and games in front of the live audience of all the classes," Ellis said. 
He is excited to be able to serve as the president this year after being the historian last year because he wants to help get the group's ideas adopted by the school as a whole. 
"Being in the president's spot, I'm able to push for the ideas that we have as a group and move things forward and out of the planning period," Ellis said.
His message to the junior class is that his goal is to help them be the best in the school this year. 
"We're always going to make the class of 2024 the best class, and that's my motto," Ellis said. 
Sophomores
President Macklin Hand will once again lead the class of 2025, as he was elected to the role for the second straight year. He is joined by vice president Matthew Wang, secretary James Grillo Shepherd, treasurer Daniel Robinson, and co-historians Natalie Alami and Trey Burnett. 
Hand's message to the sophomore class is to build a strong base. He believes that he was able to win a second consecutive term by earning the support of his classmates last year. 
"If you ever want to achieve anything great, you have to focus on your core," Hand said. 
He already has an idea for how he wants to decorate the sophomore stairwell for spirit week. 
"We're doing cities," Hand said. "And my personal favorite I would like to do is Detroit."
His ideas for spirit week themes include twin day, superhero day, and Barbie vs. emo. He also agrees with Bechtold that the class officers should create more school events for students. 
"We're going to do more after school silly events like karaoke," Hand said. "[We want to do] things that are more fun for the students to engage in."
Freshmen
President Julianne Woo, vice president Shayni Gogineni, secretary Clara Heath, treasurer Miles Sweeny, and historian Ashton Bupp will lead Clover Hill's youngest class. 
Though they are still new to the school, they are tasked with the same responsibilities as the other officers. Woo already has a number of ideas even though the group has not had their first meeting yet. 
"I do have some plans to try to run some fundraisers, make more dedicated spirit weeks with themes that are voted on by the students, decorating and making the bathrooms more lively," Woo said. 
She considers listening to and leading her peers to be an important duty and thanks everyone who voted for her.
"I will try my very hardest to fulfill my promise of making this year the best possible experience for all freshmen," Woo said. "If you have helpful suggestions or questions about school or any upcoming events, feel free to reach out or just stop me in the halls. We need all the help we can get to make our first year of high school the best ever!"