Girls volleyball fights hard but come up short versus James River
Filled with excitement and competitive action, the girls volleyball team took on the James River Rapids last night. Even with the match coming to an end after only three sets, there was a lot to cheer for, as the night saw many spectacular digs and terrific blocks. 
Action started early, as the first set saw a couple of awe-inspiring digs courtesy of senior captain Reagan Kruger and junior Virginia Collins. The first part of the set saw the Cavaliers leading back-and-forth action. However, James River was able to go on a momentous run as the scoreboard turned to double digits, en route to a 25-19 set win. 
The aforementioned senior captain contributed three assists in the set, while senior Izzy Carter assisted on two kills on her way to winning her third Cavalier Chronicle Player of the Game award. Carter produced six kills and an ace, while also assisting others on six occasions in the match.
The second set started on a high note for the Cavs, as they scored the first point of the set thanks to an errant serve by the Rapids. The Cavs were then able to score again, taking a two to nothing lead early before James River was able to come back and win the set by a score of 25-20. The set did not come without controversy, as coaches and players on both teams were seen conversing with sideline officials on multiple occasions, unhappy with various calls. 
Kruger was able to produce an assist, while also recording multiple kills in the set loss. In addition to Kruger, junior Alyssa Thompson added an assist in the set, her first of the match.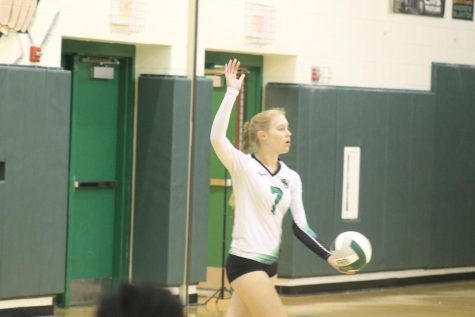 Much of the back-and-forth action came in the third set, as both James River and Clover Hill seemed to be neck and neck down to the wire. The Cavs were quickly able to jump out to a three to zero lead before James River came back, scoring three unanswered points to tie the game at three apiece. While James River took the set by a score of 25-22, it was easy to see some of the unlucky circumstances that the Cavs met with. For example, back-to-back plays saw bumps and sets hit the antennae on either side of the net, resulting in points for the visiting Rapids. 
Although the match did not fall in the Cavs' favor last night, they will look to hold their heads up high in hopes of starting a winning streak next time out. The Green and Gold will be taking on LC Bird (3-8) on the road on Oct. 6 at 7 p.m.