Field Hockey says goodbye to Coach Clopton
After 18 years, Rhonda Clopton will officially step away from her field hockey coaching duties. In her career, Clopton won 106 matches for Clover Hill High School's varsity field hockey team while also collecting three Dominion District Coach of the Year titles. 
Retiring from varsity coaching following the 2019 season, Clopton has officially announced that she will step away from full-time coaching entirely following the junior varsity (JV) matchup at Monacan High School on Oct. 20. 
Stepping away will be very hard for Clopton, but she believes that the time is right. She feels that she has made the right decision to step back and let someone else take control.
"It's bittersweet," Clopton said. "[Field hockey has] obviously been a huge part of my life, but I physically am exhausted, and I'm ready. I need to take care of myself [now]."
Clopton began her coaching career in Caroline County in 2004. Following six years at Caroline High School, Clopton took her coaching talents to the Dominion District, coaching the Clover Hill Cavaliers' JV and varsity teams for the next four years.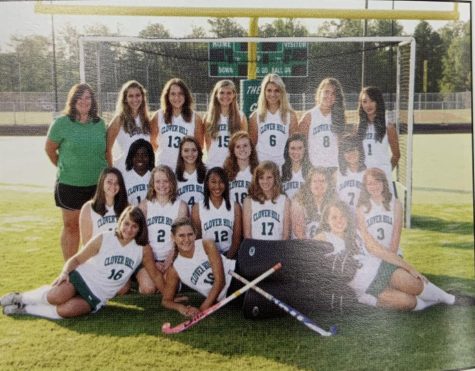 Following the 2013 season, Clopton stepped up to mainly focus on varsity field hockey activities. From 2011-2019, she racked up 106 wins, making her the winningest varsity field hockey coach in Clover Hill High School history whilst cementing a legacy as one of the most successful coaches, in any sport, in school history.
Clopton, however, is hesitant to accept that her 106 win total is her most considerable accomplishment as a coach. She feels that her career is marked by the impact she has made on her young players throughout the years.
"My biggest accomplishment is raising young women to be competent leaders and teaching them that they can do whatever they want to do [and] instilling confidence in them," Clopton said. 
Clopton believes that her young players have taught equally as much to her as she has to them. 
"I think they've helped me learn to be gracious with winning, and also with losing, and if you always give it your best, that's all that you can ask," Clopton said.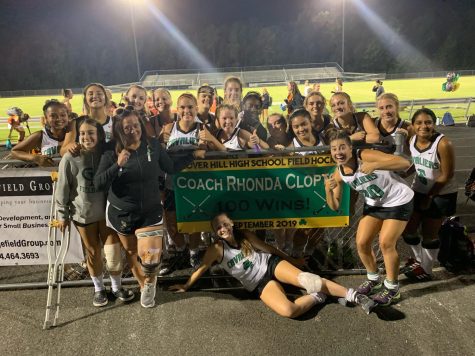 However, coaching was not always easy for Clopton; she has always kept a busy schedule as far as teaching and other activities are concerned. She teaches four AP Literature and Composition classes, as well as a Math/Sci English class for seniors, while also sponsoring the National Honor Society. Because of this, she has felt the need to trust her players with the organizational and fundamental parts of the game.
"[It's] insanity," Clopton said. "But you just have to be really organized, and that was one of the things that I had expectations for my varsity players—to be leaders." 
Through the years, Clopton has had to change her coaching styles for a multitude of reasons. Change marked her time as coach; whether it be rules or team chemistry, a plethora of adjustments have met her 18 year career.
"The most challenging facet [was] just changing with the times," Clopton said. "Things have changed a lot in those [18] years: rules, equipment, players; I think the biggest challenge is figuring out what motivates your team because every team is different."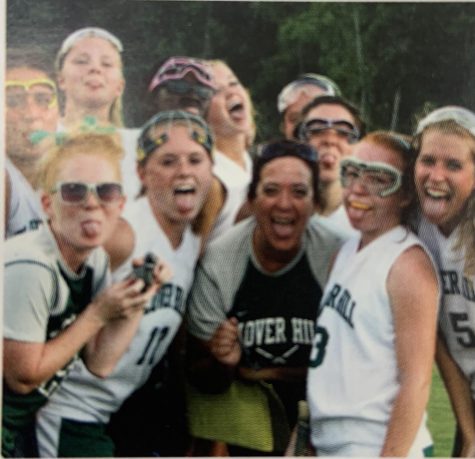 Because of this, Clopton changes the way she coaches each team based on the build of the team itself. In order to benefit the team, she has had to tailor to the needs of her young athletes.
"I've had some teams that were motivated by being pushed really hard; by being really stern," Clopton said. "I've had teams where that method did not work, and [I] had to change." 
Clopton is not the only one who feels the effects of her stepping down, many current players also feel the ramifications of her retirement.
Senior Raneem Basir, a current varsity player under the directive of varsity head coach Ginny Gill, feels that Clopton has had one of the most profound impacts of any teacher or coach she has ever had.
"She was also my English teacher last year," Basir said. "She's just left such a big impact on my life as a teacher [and] as a coach."
Senior Tessa Iorio also feels the extensive effects of Clopton's retirement; she believes that Clopton is the best coach she ever had. 
"Coach Clopton was one of the kindest people I met when I moved here my junior year from Ohio," Iorio said. "She welcomed me to the field hockey team with open arms which I am so grateful for."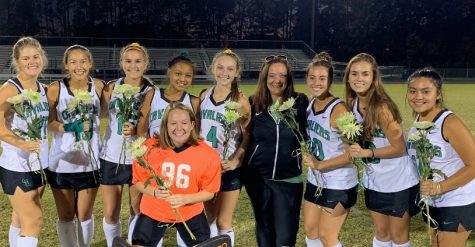 Iorio also strongly believes that the effect that Clopton has had on players, both past and present cannot be understated. She hopes that anyone who has had the pleasure of playing under Clopton will not take that experience for granted.
"She taught me so many skills and made me the player I am today," Iorio said. "Anyone who had a coach like [Clopton] was so lucky to have her!"
More than just past players and students feel Clopton's far-reaching effects, however. Her career will always be remembered as one that put Clover Hill High School field hockey on the map.
Though Clopton will retire from full-time coaching, she will remain a teacher at The Hill. She will continue to teach her four AP classes and her senior English class beyond this year. 
For the past 18 years, Clopton dedicated her life to the sport that meant the most to her. According to her, stepping away will be hard, but it is something that needs to be done.
"Field Hockey was my life. These girls were my life, and I will miss it," Clopton said.