Outstanding performances lift boys volleyball over L.C. Bird
Last night, the boys volleyball team took on, and took down, the L.C. Bird Skyhawks in dominating fashion. While scores may be close, the Cavaliers looked to be in control over the course of the entire three set match.
The Cavs looked to be rusty early, conceding the first two points of the match. They also had a share of miscues early on, which allowed the Skyhawks to run away early on in the first set, forcing a Cavalier timeout with a 10 to five scoreboard advantage. However, the Cavs were able to come back strong and take the lead late thanks to three consecutive aces from junior Brayden Berardo. By the end of the set, the Cavs started to pull away, winning the set by a score of 25 to 20.
The second set, much like the first set, saw a Cavalier comeback that would prove crucial to the outcome. While the Cavs scored the first point of the set, the Skyhawks quickly regained the lead, once again forcing a Cavalier timeout. A major theme of the second set was service errors. Both teams were plagued with errors throughout the set. These errors opened the door for the Green and Gold to come back in the set; victorious by a score of 25 to 22. 
In all but the score, the third set saw domination by the Cavs, as they won the set 25 to 18. To begin the set, the two sides had an impressive rally, much to the delight of the fans. Impressively, the Cavs went on to start the set with a 10 to one open. The Cavaliers never gave the lead up in the final set en route to the win.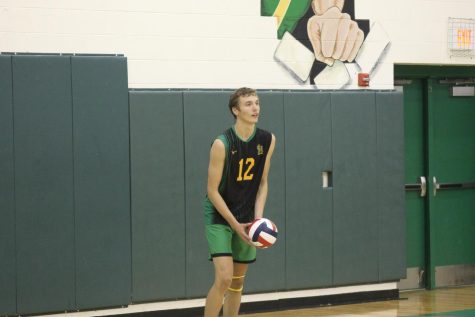 With the third set victory, the Cavaliers won the match by a score of three sets to zero. Many impressive performances were turned in by the team, leading to three co-Cavalier Chronicle Player of the Game awards. The aforementioned junior Berardo, senior Bryce Matthews and junior Ibrahim Khalid all took home the award, combining for 31 kills, 63 assists and eight aces. Individually, Berardo contributed eight kills, 21 assists and four aces. Matthews produced nine kills, 23 assists and two aces. Finally, Khalid put up 14 kills, 19 assists and two aces in the match.
The three Player of the Game award winners, as well as the rest of the Cavalier team will look to ride this momentum into their next game. The Cavs will take on the Manchester Lancers (6-7) on Oct. 11 at 7 p.m. at Manchester High School.