Izzy's kitchen provides exquisite food and a comforting atmosphere
Izzy's Kitchen is a small family owned restaurant in the Museum District of Richmond. Owners Joe and Sharon Carter opened the restaurant, named after their eight-year-old daughter Isabella, during Oct. 2019.  
There is a vivid farmhouse atmosphere that makes visitors feel right at home, complete with decorative signs, a selection of pictures from places around the globe and tastefully hung greenery. Head chef Joe gives Izzy's Kitchen its own taste of authenticity.
Joe grew up in the kitchen on his family's cattle farm in Chesterfield County, and it helped him develop his skills as a chef. He started cooking every day when he was 12. The farm no longer has cattle, so in the future Joe would like to make the space "Izzy's Provisions", which will be a wholesale arm to the business. His wife Sharon is a photographer and the one who chose the decor. She is key to running the restaurant and before Izzy's she was a senior paralegal at a law firm. Joe and Sharon combine their talents and backgrounds to run a successful restaurant.
Before Izzy's Kitchen was the restaurant it is, Joe and his partner Wendall Sprouse owned a restaurant called Uptown Market. This was in the same location as Izzy's is today, and Wendall is still a partner of the buissness.
Joe's specialties are in brining, curing, smoking and roasting meats, but the restaurant has wonderful vegetarian options. One of these is a poblano pepper split open and stuffed with black beans, corn, gruyere cheese and mushrooms. The pepper is laid out on seasoned Mexican rice with a garlic and tomato sauce on top. This meal was delicious and huge, but worth every bite.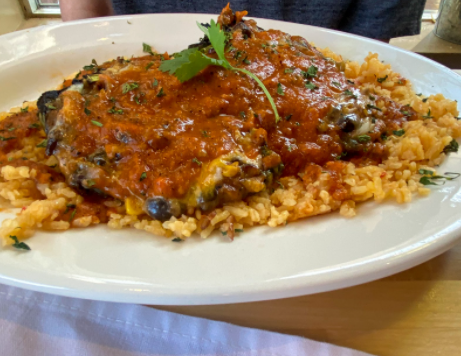 The steak quesadillas were also a large portion, but are seasoned and filled with all the right and moist ingredients. Stuffed with cheddar cheese, onions, peppers and corn, the steak quesadilla made for a heavenly mix of flavor that almost melts in the mouth.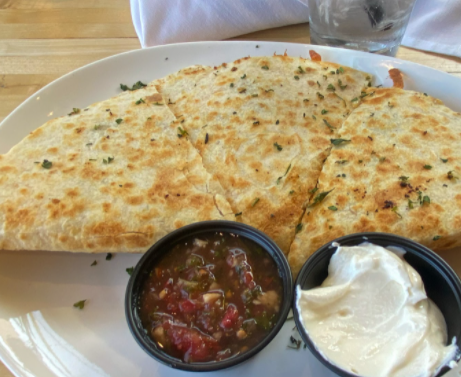 Izzy's weekly specials are unique, but they also have classic options for everyone like delicious sandwiches and subs. The restaurant has an original feel, especially for its location in "The Devil's Triangle." Izzy's Kitchen is a restaurant with great ambiance, great staff and phenomenal food.
The address is 2901 Park Ave, Richmond Va 23221
Expect to spend: $11-$23
 4.5/5 Stars