Swain takes over as the new quarterback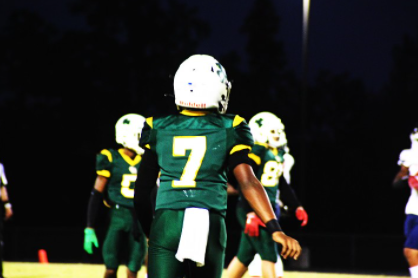 During the third quarter of the football team's opening game against the Matoaca Warriors, backup quarterback Malacai Swain stood on the sideline. The sophomore had no idea that he was about to enter the game. 
Swain, like most of the students at the Chiller that night, was watching starting quarterback Holden Stephens lead the offense as they attempted to score the Cavaliers' first points of the season. He saw Stephens get hit by the Matoaca front seven and fall to the turf after he threw his pass. While the team's medical staff attended to Stephens, Swain began to warm up his arm; he was going in. 
"It was kind of a shocker at first like I didn't really know how to feel," Swain said. "I didn't feel prepared at all. I didn't really know the offense as well as I wanted to."
That night, Swain completed several passes, including a 15 yarder to fellow sophomore DayJuan Ablonczy. While he was not satisfied with his performance, he believes he made strides at the end of the game. 
"I didn't do that great starting off," Swain said. "[But] I made some good passes at the end." 
Coach Bryan Jennings made the decision to go to Swain after Stephens's injury because he felt confident in Swain's abilities after watching him play on the junior varsity (JV) team. 
"We knew we needed a quarterback to step in and we felt like Malacai was ready to do it," Jennings said. "Even though he was the starting JV quarterback, we felt like he was ready to come up with varsity, so we feel confident in him."
 After the game, the team found out that Stephens has a broken collarbone and will be out for the rest of the year. Stephens, however, knew that he had a serious injury as soon as the play was over.
"The second I stood up I realized something was wrong and it devastated me," Stephens said. "Three days after the injury, I came to find out that I was to have immediate surgery in two days."
Stephens thanks his family, friends and fellow students for the support as he begins his rehab process. He plans to go to the gym, start light and build himself back up with the goal of being a better and smarter player than he was before.
"I'll be returning ready and prepared for the upcoming season," Stephens said. 
While he recovers from his injury, he will cheer for Swain and the rest of his team. Like Jennings, he believes in the new quarterback. 
"This is a big step for Malacai as a first year starter," Stephens said. "I'm very proud of the kid and have high hopes for him. Since the first practice I had with him on JV [I've been] able to see how much he has grown as a team player and a leader. I know it's nerve-racking for him, but he is handling it like a champ."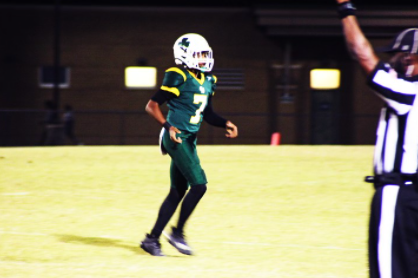 After the news about Stephens' injury, Swain began to move forward as the team's starting quarterback. It is a chance that he does not take lightly. 
"It's a good opportunity to be a leader and play at the next level of high school and show what I can do," Swain said. 
So far, he has started five games, leading the team to a 2-3 record during that span and throwing three touchdowns. With his ability to read the field and make the right throws, Swain feels that he can compete at the varsity level. Still, he wants to cut down on the number of mistakes he makes on the field. 
"[I've made] too many mistakes so far, seven interceptions [so far this season]," Swain said. "That's a lot to clean up." 
Jennings feels that Swain is getting better every day, and maintains that he must continue to work hard in practice to improve his performance on Friday nights. To help the first time starter, Jennings and the other coaches have adjusted the gameplans in accordance with his skillset, and the other players have tried their best to step up and take some of the pressure off of him. 
"He's a young kid but he has a lot of potential and a lot of talent," Jennings said. "Anytime you make the step from JV to varsity it's gonna be an adjustment because of the speed and just all the other things that come with it, but so far so good." 
In the last three weeks, Swain led the team to its first two wins of the season in games against Huguenot and George Wythe. He feels that the offense has meshed well and adjusted to the change during that time.
"We've been pretty good so far," Swain said. "I think there's a few things that I would like to change, being honest, but right now I think I just got to be better and execute."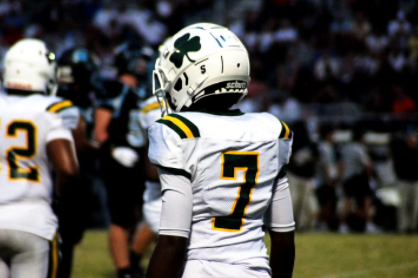 Sophomore receiver Latrell Green agrees that the team was able to adjust despite the challenges of making a quarterback change, especially the fact that Swain throws with a different arm than Stephens. 
"It's a big adjustment," Green said. "Malacai [is] young and he throws differently because he's left handed, so we had to adjust to that and really work in practice on the timing [because] the timing was way off." 
Green, who has scored three touchdowns this season, including two on passes from Swain, praises the quarterback's ability to lead his teammates. 
"He's a young leader," Green said. "You can tell how he carries a team, and he gets everybody in check if they're not doing the right thing." 
Moving forward, Swain has only one hope for the rest of the season: winning.
"I just want to win," Swain said. "No matter how ugly it gets. I just want to win the game."
He will not stop after the season ends. Like Stephens, he plans on working as hard as he can every day to prepare for next year. No matter who starts at quarterback, he plans to be ready because he loves football and wants to play. It is that passion that makes this season so special for him.
"[Football] is a lifestyle," Swain said. "It's a part of me."