Clover Hill community celebrates Latin Heritage Month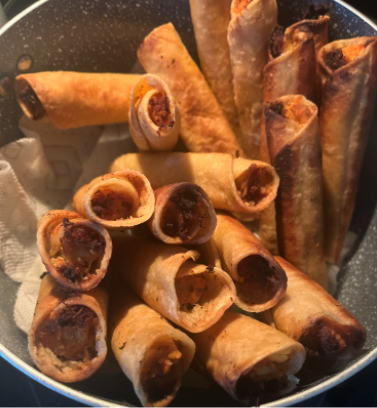 Since 1988, people in the United States have celebrated Latin Heritage Month to honor American citizens whose ancestors come from Latin-American countries.
 From 1980 to 2020 the Latin-American population in the United States went from 14.5 million to 62.1 million, an increase of 328%. Naturally, with this growth in the general Latine population came an increase in Latine students enrolled in U.S public schools. A large majority of these students are immigrants who do not speak English as their native tongue, which can lead to some difficulties with socializing and learning. 
Latin Heritage Month is an opportunity for Latine students to socialize and for their school to commemorate them. It can be a way for these students to break out of their shells and feel welcomed in a potentially scary environment.
From Sept. 15 to Oct. 15, Latine communities spend their time participating in parades, cooking their favorite dishes and sharing their life stories to celebrate Latin heritage month.
Venezuelan freshman Maria Diaz celebrates her culture by cooking traditional Central American dishes.
"This year my family will probably make our national dishes, most likely arepas, ayacas and mandocas," Diaz said. "I'd really enjoy it if Clover Hill took into account their Latin-American students and gave us more chances to celebrate our holidays. It can be hard not to lose sense of my own culture since I am not living around it, but I do my best to keep my traditions alive."
Diaz believes that new students typically find themselves struggling with adjusting to their schedules.
"Adjusting to the rhythm has been a major difficulty for me," Diaz said. "I have been here for about a year now, but I still find myself having trouble adjusting to the language barrier."
Faculty, such as math teacher Gabriella Munoz, are also celebrating Latin heritage month and honoring Latine students.
"It is important to make sure that teachers are first off just engaging with our students and making them feel welcomed," Munoz said. "With adults, with us as educators, we need to make each other feel welcomed and supported when we move or come into the school building." 
Munoz will often have Spanish translations of math terms and problems in order to aid her students in following along.
"With the math content, I do translate it in Spanish first, but then I always repeat it to them in English, just so that they can understand when I am teaching or instructing in English," Munoz said. "They can make connections quickly, or at least find a way to connect the math with it." 
Many students believe that Latin Heritage Month is necessary to celebrate their culture and heritage, as well as to help others understand their culture. Colombian junior Sarah Contreras reports people asking her inappropriate questions because she is hispanic.
"I've been asked how I got here and stuff, it's very weird," Contreras said. "Some people have helped me with translating my school work, and they usually do not make fun of my accent" 
Hispanic students will continue to celebrate, and teachers will continue to support their Latine students throughout the remainder of Latin Heritage Month.