NHS and food pantry complete fall food drive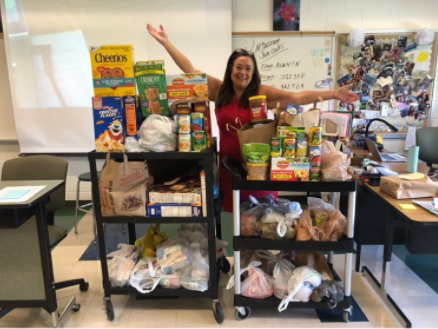 The National Honor Society's first monthly service project was a "Back to School Food Drive". where they collected nonperishable donations throughout the early fall.
Under the guidance of sponsor Rhonda Clopton, the food drive reached its goal of raising approximately 300 individual donations. The NHS worked with the leaders of the Clover Hill Food Pantry, juniors Jayla Adkins and Vi Chau, to organize the drive.
"I had Jayla and Vi in class this year so it was something that I really wanted to kind of help them with so we took it up as our first service project for the year," Clopton said.
Aside from the back to school drive, the food pantry collects donations throughout the school year at football games. 
"We were planning it over the summer, our goal was to get enough donations to last us through the first three months of school," Adkins said. The drive collected non-perishables, cans and pre planned meals for two and a half weeks to give to families in the community.
This year, 80 NHS students participated in the back to school food drive. Henry Yang, a senior in National Honors Society, said his desire to help others led him to donate.
"I felt the urge to help others in need," Yang said.