Film club rolls out red carpet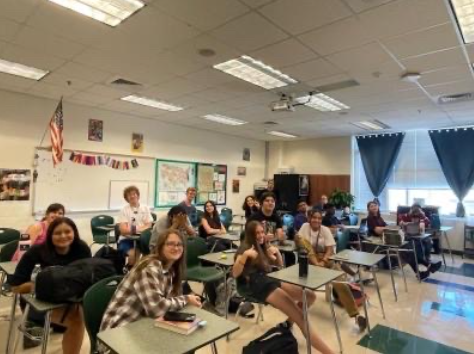 On Thursday, Oct. 20, students in the new Film Club held their first meeting in room 329 after school. The Film Club stemmed from the Ethics in Culture in Film elective taught by English teacher William Kaskay. 
The Film Club is a student-run space for Cavs to watch, enjoy and dissect movies with one another. According to Kaskay, students in the club will meet twice a month to have snacks and drinks and watch a movie with one another, which they then discuss afterward. The club is building future plans to incorporate events like holidays and different places for watching.
"Future plans for the film club this year include seasonally-appropriate viewings for holidays and watching a movie in a space more suitable for the theater experience like the auditorium or forum," Kaskay said.
All students are welcome, and anyone who is interested in the club can listen for more screening announcements about dates in the morning. Students can also reach out to club presidents, Victoria Wigfall and Vanessa Wigfall, or Vice-President James Rioux. Interested students can also follow @chhsfilm on Instagram for additional details and information.