Girls Volleyball unable to handle the Titans on senior night
The Clover Hill Cavaliers girls volleyball team took on a second hostile opponent on their senior night in as many games. Facing off against an injured Cosby squad, the Cavs looked to spoil the celebrations and get revenge from the last match, one in which they lost three to zero.
The first set was a back and forth battle before going down 14 to 10 at the first timeout. The first half of this set was characterized by strong hits from junior Virginia Collins and strong blocks from junior Addison Thompson. The Titans, however, were able to run away with the set before disaster struck for the Cavs. After an ankle injury ended the day for a Titan starter, the Green and Gold came back out facing a nine person Cosby squad. Even with the missing players, the Cavs could not come back in the set, losing 25 to 19 after a botched pass.
The aforementioned Collins was the Cavalier Chronicle Player of the Game with eight kills and one ace.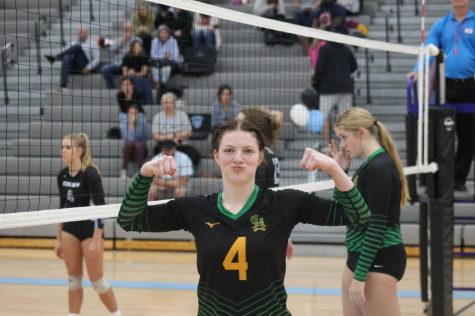 The second set did not go much better for the Cavaliers, going down 16 to six. Poor communication and mindless mistakes plagued the Green and Gold throughout the set. Even after a reset from coach Mike Carter and a pep talk to fire the team up from senior captain Reagan Kruger, the Cavs were only able to muster up three more points and lost the second set with just a whimper, 25 to nine.
The third set saw many of the same mistakes as before. Going down 19 to 12, Clover Hill couldn't seem to find a groove. Coach M. Carter observed the Titans mental toll on the Cavalier team and gave them one piece of advice during a late timeout: play like the score doesn't matter. Strong serves from sophomore Sophia Carter and junior Dani Couch, as well as strong hits from senior Izzy Carter attempted to add fuel to the Cavs fire as they looked to make a comeback, but they were unsuccessful, losing the final set 25 to 18.
With a schedule update, the Cavs will skip their final game against George Wythe and instead play Douglas Freeman (5-15) on Oct. 27 at The Hill, as they hope to advance in the District 5C playoffs.