Boys cross country advances to states with second place at regionals
On Nov. 2, the boys cross country team earned second place at the regional meet and a spot in the upcoming class 5 state championship race. 

Clover Hill entered senior Andrew Bennett, junior Caleb Wilcox, freshman Ethan Thorne, senior Clinton Clancy, freshman Josh Taylor, junior Andrew Hathaway and junior Andrew Ellingson in the varsity race at regionals. 

The meet followed the standard cross country format, where each team's top seven runners compete in a five kilometer race with each of the top five for each team scoring points in a total that corresponds to their place number. 

The Cavaliers' top five scored 50 points, which was second to only Glen Allen out of 11 schools. Their average time in the race was a blistering 16 minutes and 48 seconds. Their average time was over a minute faster than last year, when they scored 126 points to place fifth. 

The race began at 1:40 p.m. under a cloudy sky at Pole Green Park in Mechanicsville. On the first mile, the runners raced across flat ground before heading into the woods for a hilly second mile. They traversed sharp uphills and downhills in the woods before emerging from the trees shortly after reaching the second mile marker. 

Ben Schneider

From there, they ran along the path they had taken on the first mile. They hit three miles after turning a corner to find the finish line in sight. It was then a 200 meter sprint to cross the line and beat as many of the other teams' runners as possible.

Bennett, Clover Hill's top runner, finished third overall. He entered the woods in fifteenth place but rallied to pass 12 competitors and left the woods in third place. He then held the position for the entire third mile and finished with a time of 16:20. 

"The race was really fast, really competitive. I would say about everyone in the top 10 or 15 is division one quality, so it is a tough race, but it really opened up in the second half and everybody moved up," Bennett said. "The woods are a really tough section with lots of hills where people aren't very strong, but I like to use that as an opportunity to pass people and get up into the top few positions."

Wilcox was right behind to take seventh place after running 16:38. Like Bennett, he moved up in the woods, passing a number of opposing runners.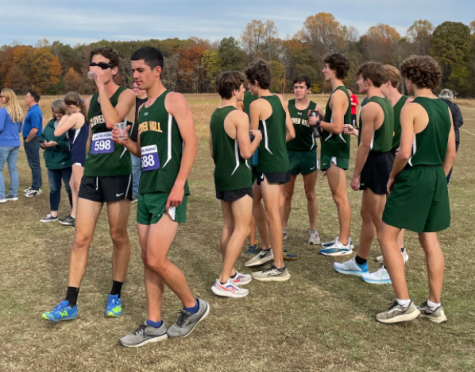 "The second mile and the finish were very hard. We had a plan to go out quickly, so it was just very physically taxing, but I did my best," said Wilcox. 
Thorne came in eleventh place at 16:45, the fastest finish for any freshman in the region. He was followed by Clancy, who ran 17:00 to finish in thirteenth place, and Taylor, who earned sixteenth with his time of 17:11. Thorne believes that pacing at different parts of the course is incredibly important when trying to finish with the best possible time. 
"I went really fast the first mile," Thorne said. I ran 5:07, and then I was behind the top Glen Allen runner and I just stuck with him the whole race."
Clover Hill's six and seven runners, Hathaway and Ellingson, finished in eighteenth place at 17:28 and twentieth at 17:42, respectively.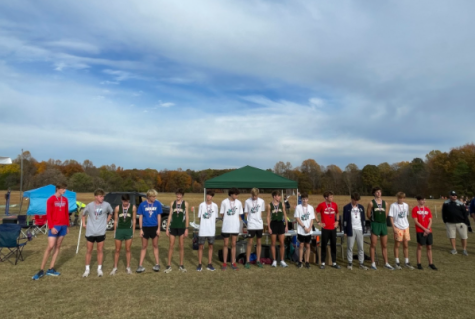 At the awards ceremony, Bennett, Wilcox, Thorne, and Clancy received all-region medals for finishing in the top 15. The Cavs' four all-region honors were second only to Glen Allen, who had five. The team also accepted the trophy for the region runner-up finish. 
Later in the afternoon, the rest of the team competed in the sub-varsity race for runners outside of their team's top seven. 
Ben Schneider and Garret Wilcox led Clover Hill in the sub-varsity race with respective times of 19:00 and 19:02. Kerem Altunisik achieved a personal best time of 19:35. Senior Andrew Orndorff finished in a personal best time of 21:29. Sophomore Alex Simonetta, freshman Jace Deangelis, freshman Kallen Wilt and senior Matthew Stefanelli all finished with times in the 22 minute mark of 22:19, 22:41, 22:44, 22:45 respectively. Following them came sophomore Sam Hopkins with a time of 27:57. Altunisk kept strong throughout the race with consistent pacing, even in terrain his competitors could not keep up in.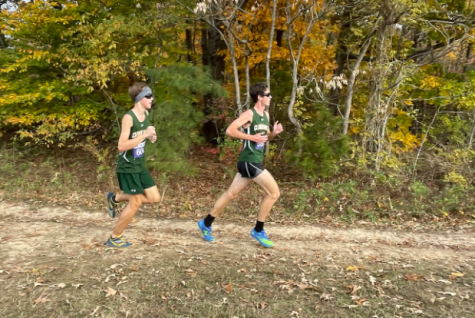 "I took the advice that Ben Schneider gave to me, which was to keep him in my eyeline for the first mile," Altunisik said. "I loved the second mile because there were hills where I passed at least a dozen guys."
Clover Hill's varsity squad, along with alternates Schneider and G. Wilcox, will head to Oatlands Plantation in Leesburg for the state meet on Saturday, Nov. 12, where they will again race against the nationally ranked Glen Allen for the gold.
The team believes that Glen Allen will be their main competition in the state meet, just like they were at regionals, because they are ranked number one in the state for class 5. Even though the Cavs hold Glen Allen's runners in high regard, they are motivated to beat them and every other team at states. 
"I respect them a lot. They are very nice and very respectful, but we are looking to take them on at states and best them this time," C. Wilcox said.