Clover Hill hosts annual craft fair
Hundreds of community members flocked to Clover Hill to participate in this year's Arts & Crafts fair on Saturday, Oct. 29. The event lasted from 9 a.m to 3 p.m.
The school has been home to the Arts & Crafts Fair for over a decade. Hundreds of vendors gather to raise money for the school's athletic programs. This event is hosted by Richmond CultureWorks, an organization focused on strengthening art and culture in the greater Richmond area.
Clover Hill Booster Cindy Adkins had high hopes for the future of the craft fair.
"In the past, the craft fair has been extremely successful," Adkins said. "Because of COVID, we are not as big as we used to be, but we are hoping to grow it back."
Adkins' granddaughter, junior Jayla Adkins, plays softball for Clover Hill. Seeing her granddaughter play influenced her decision to become a booster.
"I just wanted to support my granddaughter and make sure I did my part at Clover Hill," Adkins said.
Many vendors, such as knitter Tera Johnson, returned once again to the craft fair after COVID forced them to cancel previous years.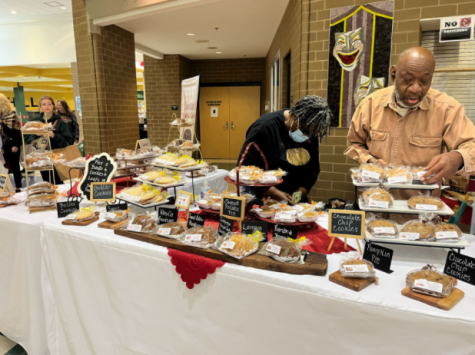 "I started by knitting at my son's hockey games," Johnson said. "People would start buying things from me at the games. That was 10 years ago."
Other vendors were joining the craft fair for the first time. One of these vendors was candlemaker Susan Wenograd.
"I heard about it online and had people tell me it was their favorite craft show, so I decided to apply," Wenograd said.
Wenograd learned candlemaking as a hobby during COVID. She was encouraged by her friends to sell her work at the fair and was excited to do something for her community.
"I wanted to support something local as opposed to just paying a table fee," Wenograd said. "I like that it's giving back to the community."
Vendors were not alone in preparing for the craft fair. Student and teacher volunteers arrived at 6:30 a.m to help vendors set up their stands and prepare concessions.  Throughout the duration of the craft fair, student volunteers worked the concessions stand and sold food and beverages to attendees.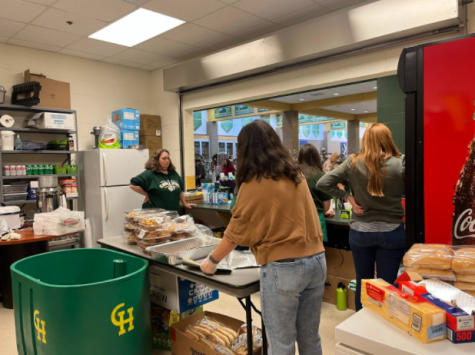 Junior Oge Ikem was a volunteer handing out raffle tickets for craft fair discounts. She saw it as an opportunity to be a part of her community.
"It was cool seeing all the crafts and seeing all the different sports come together," Ikem said. "I really wanted to help out my school."
Ikem says the craft fair is an easy way for students to help out their school.
"There's something for everyone to do," Ikem said. "You can stick to what you know and what you are good at."
The Arts & Crafts Fair will continue to provide a safe space for vendors to showcase their talents and bring the community together for the foreseeable future.