Midterm elections come to Chesterfield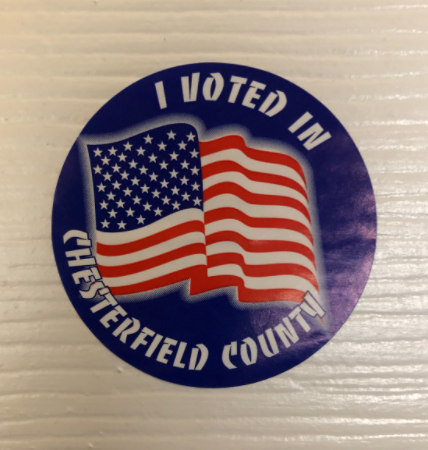 The midterm elections will take place throughout America on Nov. 8th. In this election, Chesterfield residents will have three things to vote on: the Community Facilities Bond Plan, Board of Supervisor members, and members of the House of Representatives for the district they live in
The Community Facilities Bond Plan is a yes or no vote on whether or not Chesterfield should fund 540 million dollars towards community improvements. The bonds will go towards improving public schools (375 mil.), public safety (81.1 mil.), public libraries (45.7 mil.) and parks and recreation projects (38.2 mil.)  If Chesterfield votes yes, then the county will put these plans into action. 
The Board of Supervisors is responsible for the everyday needs of people in the county. The board deals with money, construction, public sanitation and the overall welfare of citizens. All voters in the Midlothian district are voting on a Board of Supervisors member. The candidates are Mark Miller (Democrat) and Jennifer McNinch (Republican). 
House of Representative members serve two-year terms and voters select them by district. In Clover Hill's district (23112 zip code), the candidates are Herb Jones (Democrat), Rob Wittman (Republican) and David Foster (Independent). Wittman is the incumbent and has served as the representative for the first district since 2007. 
This is Clover Hill's first year in Virginia's first congressional district after previously being a part of the seventh district, which was represented by Democrat Abigail Spanberger. The change comes from the area's involvement in redistricting ahead of this year's election that shifted the boundaries of the districts. The other half of Chesterfield will vote for either incumbent Donald McEachin (Democrat) or Leon Benjamin (Republican) in the fourth congressional district. 
House of Representative members are responsible for introducing new legislation and passing bills. The House of Representatives is part of the national government so some of the main issues facing America such as reproductive rights, inflation and climate change could impact citizens' voting decisions. 
Government teacher Rebekah Amato believes that voting, even in local elections, is extremely important and crucial in a democracy. 
"My only wish is just that the youth vote," Amato said. "I know not everybody in our school can vote because of the 18 age requirement but registering to vote when you can is so important so we can make these decisions." 
Voter turnout for young age groups is historically low despite students being passionate about certain topics. However, some Clover Hill students are old enough to vote and plan to do so. Senior Andrew Orndorff plans to use his vote to address the issue most important to him. 
"Climate change above all is my biggest concern," Orndorff said.
Amato wants students to realize that their vote matters, especially with the issues facing the world today."
"I would really love it if one year 18-26 year olds just turn out in droves and we shock everyone and then I can change a PowerPoint slide," Amato said.