Setting the scene with Theatre on the Hill
Every year, Theatre on the Hill produces and performs numerous plays for the enjoyment of the public. They continue to build a close community of theater members that comes with hours of rehearsal and experience, all striving to create the best performance possible. 
Each theater production takes a lot of effort and dedication from a variety of different people. Each production consists of its own unique cast with a team of actors rehearsing multiple times a week to remember lines and start to put everything together.
The lead actor for the upcoming play Get Smart, Charles Elliott, has been acting since middle school. He is very familiar with the progression of acting and the interaction between actors in rehearsal.
"As people start to memorize their lines, they start to work the scene," Elliott said. "[But it is] not just memorizing their lines and going through motions, it's making something of higher quality."
Laurel Bennett has been in theater since freshman year, working as an actor, stage manager and assistant director. Her wide range of experience gives her a clear view of how seemingly independent departments have to work together.
"[As an actor] I got a little bit fed up because a phone was supposed to ring and then the ringing sound wouldn't play," Bennett said. "But when I did lights, if an actor messed up their line, I didn't know when I was supposed to do that cue: so I got fed up with the actors."
Once the team gets a good grip on their roles, they start relying on each other more and more. They feed into each other, using each other's lines and movements as cues. All the components of the performance work together. The actors cue the lights, and the lights cue the actors. On top of that, props, sounds, music and choreography all have that same entwining effect.
"You come to realize that you depend on [everyone else] just as much as they depend on you," Bennett said.
This interdependence is what moves the production along and creates a flow between actors on the stage like Elliott and all the members off the stage.
"[We] work with them, play off them [and] feel natural," Elliott said. "Props start to come out, the lighting starts to come out. It all becomes muscle memory." 
The point of this process is to immerse the whole team into the stage, and make their roles feel less like a role and more like second nature. 
"The connection between people on the team shows on stage," Elliott said.
As they go through more and more rehearsals, Bennett believes that the community grows stronger. 
"It's really all about adaptation and knowing the people," Bennett said. "Even if you never interact with them on stage, you have to know [each other]."
This dynamic is what makes the community of Theatre on the Hill so integral to the quality of the production. The play's quality is the aspect that draws the actors to the stage and the audience to the seats.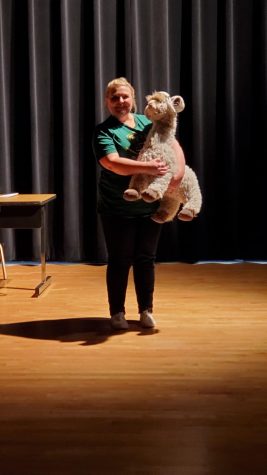 At the heart of Theatre on the Hill is director Carli Wilkerson, who plays a key role in fostering the community. She continues to work towards growing the program since starting Theatre on the Hill six years ago. Elliott believes that she is massively important to each play's success.
"Wilkerson is the heartbeat of the whole program, without her none of it would happen," Elliott said. "She keeps rehearsals lively, laughs at jokes while giving intelligent and concise advice, [and] contributes energy."
Knowing how valuable Theatre on the Hill is to its members is a big part of what drives Wilkerson's passion for the program. 
"When COVID hit, I learned just how important the arts truly are," said Wilkerson. "My kids really needed this class during virtual learning as an outlet."
Wilkerson's encouraging personality drives everyone forward to do their best. Her personality also manifests in her theming, as she refers to theater members as her "drama llamas". Accompanying her in rehearsals is Tony the Llama. Good performances are awarded with llama stickers, and Wilkerson continues to receive various llama gifts.
But she also gives back to her students, as she works hard to hold everything in the process together.
"She's the connection," Elliott said. "Wilkerson knows what she wants to do [and] she always has a plan."
Wilkerson works to keep all parts of the production flowing together. From choreography to casting, she has a hand in everything, working with different teachers and leaders to make sure everything rolls smoothly.
"Choreography is done by another teacher in the school, Mrs. Smith" said Wilkerson. "She helps us with the musicals, and taught all the choreo last year for Fiddler on the Roof." 
In addition to working with teachers, Wilkerson constantly works with her students to improve their performances.
"I have students learn how to do [their] roles for the shows and then bring in younger students as time passes so they can learn from the older students how to do those roles properly," Wilkerson said.
At the end of the day, Wilkerson's goal is to have the process "focused, but fun", in order to keep the troope cohesive and together.
"Initially my goals for TOTH were to just grow the program, which I feel has been accomplished," Wilkerson said. "My first year working here we had four kids audition for a six person musical, You're a Good Man, Charlie Brown. I had to literally beg kids to be in the show. But now we have upwards of 45 kids audition for each show, and that has been so nice, because it makes me feel like kids genuinely want to be in the shows."
Theatre on the Hill returns to the Forum on Dec. 1 with their production of Get Smart.