Fuzion talent show gives students opportunity to shine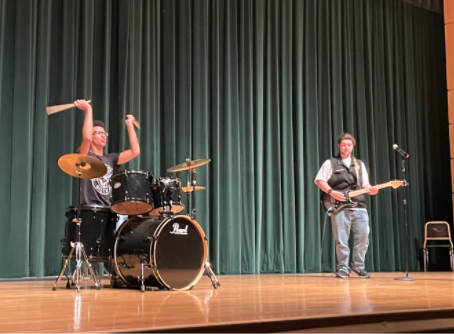 After open auditions in Oct., the Clover Hill High School step team, "Fuzion", hosted their very first  talent show on Nov. 1 in the auditorium.  
Alyssa Rosenbloom, who is the Fuzion step team coach and organizer for the event, hopes the talent show will provide adequate funding for the team to get uniforms and a safe space for students to showcase their talents.
"My ideal outcome would be that all nine of my step team members get their uniforms paid for, but I also want other people who are not a part of clubs, sports and groups to feel like they are a part of something," Rosenbloom said. 
The show began with the step team performing one of their acts. According to junior Lily Worsley, the team wanted to perform at their own show even though they were not eligible to win.
"Yes, members are allowed to participate but we are not allowed to win," Worsley said. "I won't be performing solo but the step team will be doing a step routine at the beginning of the show."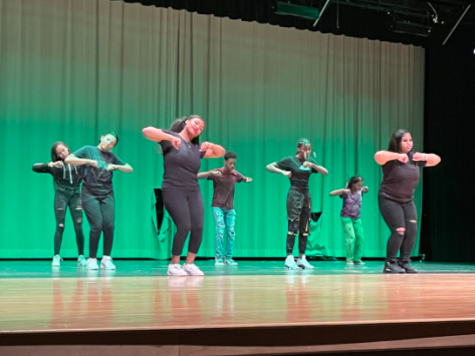 The show consisted of 11 performers: junior Yameir Lacy, freshman Ryan Chen, junior Meredith Lauler, junior Sierra Coote, sophomore Kassidy Drayton, sophomore Mia Lewis, junior Whitney Cardwell, senior Erik Fraga, senior Jonah Viruet, senior Isaiah Mosby and junior Michaela Mosby.
Lacy started the show off on a good foot by singing one of Beyonce's most famous songs "Listen". The crowd cheered him on as he shocked everyone with his ability to hit high notes that the average person would struggle with. 
Chen was next up to go by playing "Clocks" by Coldplay on the piano. Chen worked through the song by hitting the keys on the instrument as he shared his musical talent of playing the piano.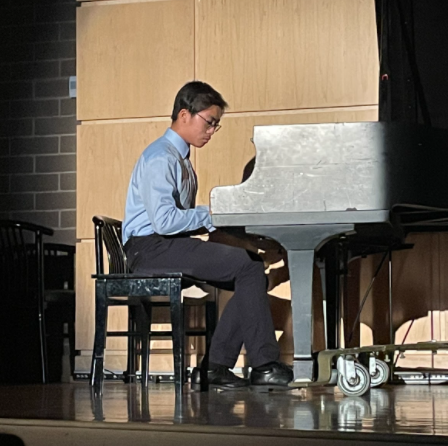 Lauler sang one of her original songs "Spread My Wings" while simultaneously playing her ukulele. Everything was original all the way to her song lyrics to the uke chords. Not only did the crowd love her but so did the judges, as Lauler ended the night winning second place. 
Coote, Drayton, Lewis and Cardwell performed "Roman Revenge" and "Super Bass" by Nicki Minaj. Each of them entered from the crowd and separately entered the stage. All of the girls wore tutus but Coote was the only one in a neon pink wig as she portrayed Nicki Minaj with the other girls serving as her backup vocalist and dancers. 
Fraga and Viruet are two friends who created their own band together called Face in the Crowd. Fraga sang and played the electric guitar while Viruet played drums. The loudness of the drums and guitar immediately woke up the audience and kept their attention as they performed their rendition of The White Stripes. 
Isaiah and Michaela Mosby are both known for their musical talents and were able to showcase their singing and piano skills on the night of the show. Michaela sang Session 32 by Summer Walker while her brother followed up with music from the piano. The brother and sister duo were the winners of this year's talent show as they won first place together.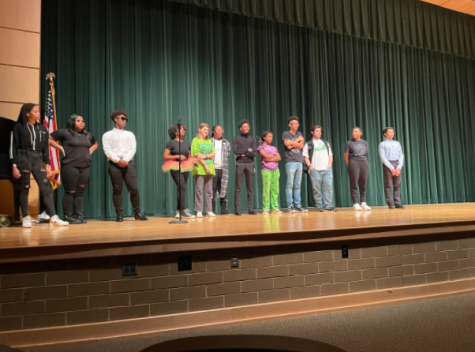 The show was hosted by Naji Crews who was able to keep everyone laughing between performances. 
After each performer finished, there was an awards ceremony. Lauler, who won second place, was surprised and proud to receive an award. 
"Honestly I was pretty shocked because I was just doing it to have fun and I didn't think I was going to win," Lauler said. "When they said my name I was pretty shocked and proud of myself but I was also humbled when everyone said they liked my song."
All step team members agree that this is something they hope to continue in the future and have annually. This year's talent show was more than just a fundraising event but as well as a judgment free zone for students to show off their talents. Events like talent shows had to be halted due to COVID-19, but as society gets back to normal there will be more events like within the school.