Boys cross country takes second at states
The boys cross country team won second place in the VHSL class 5 state meet on Saturday, Nov. 12 in the highest finish in school history.
The Cavaliers won silver, second only to defending champions Glen Allen, after they scored 57 points, only four shy of Glen Allen's 53. The next closest team, Deep Run, had 137 points. A total of 12 teams competed. The team's average time was 17:11.
Freshman Josh Taylor led the team with an overall placement of 6th place and a time of 16:57. Behind Taylor, in 10th and 11th place with respective times of 17:04 and 17:07, were freshman Ethan Thorne and senior Andrew Bennett. Following nine seconds later was senior Clinton Clancy, who finished in 14th place with a time of 17:16. Junior Caleb Wilcox placed 23rd with a time of 17:35. Junior Andrew Ellingson and junior Andrew Hathaway came in seven seconds apart with placements of 38th and 42nd; they finished with respective times of 18:08 and 18:15. 
Senior Ben Schneider and junior Garret Wilcox served as the team's alternates. Due to the 7-man limit, they did not race and instead cheered on their teammates.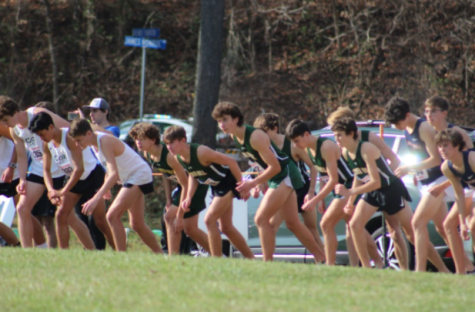 Taylor, Thorne, Bennett and Clancy got all-state honors and medals after finishing in the top 15. Despite only just starting his high school running career, Taylor was ultimately the team's most valuable runner. 
"I was really nervous leading up to it," Taylor said. "It was a really hard race, an incredibly hilly course." 
The race was held at Oatlands Historic House and Gardens in Leesburg, and it started at 12:30 p.m. 
Clancy, who signed with Longwood University on a running scholarship, found the course to be the most difficult he has faced. 
"It was the toughest course I have ever ran on," Clancy said. "The terrain was a mixture of grass and dirt. It was insanely hilly, but we were ready. [It was] nothing that we could not handle, that is cross country."  
"
This year is just the beginning"
— Andrew Bennett
The race, like most others, was five kilometers, which equals 3.1 miles. The first mile was flat, and the runners fought for position in the pack. The second mile was extremely hilly in the woods; it had one of the longest hills in VHSL. On the third mile, they emerged from the woods and ran up another hill before taking a flatter path past cheering crowds to the finish line. 
Bennett, the team's captain, was proud despite the disappointment of the narrow gap behind Glenn Allen.  
"We have not been to states as a team in years, so it was a pretty good experience," Bennett said. "We did not win unfortunately, but it was definitely close. We were four points behind the returning champions."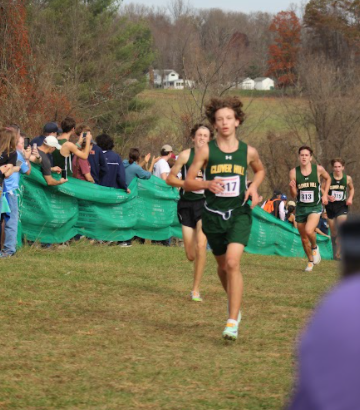 The team has never finished on the podium at the state competition until this year, and it was the first time in years they have made it to states. James Wahrman, the cross country coach, was there to see how far they have come after missing most of the season because of health reasons. 
The team is proud of their accomplishments this season, but they have their sights set on the state championship in the future. Bennett believes that this high of a finish will soon become normal. Though seniors Bennett, Clancy and Schneider are leaving, the team plans to rely on their set of juniors and two of the fastest freshmen in the state in Taylor and Thorne to lead them to first place next year. 
"This year is just the beginning," Bennett said. "Next year, we are going to come back and win. We are only getting faster."