Seniors bring their designs to life with parking spot painting
The senior class was allotted five days between Oct. 17 and Oct. 25 to paint their parking spots as they saw fit.
In painting these spots, some chose references to artists, some preferred illustrations or design and some even collaborated with other spots to create a larger message.
Some students chose to represent their music taste through their spot. Among them was Kalee Patel, who chose singer Phoebe Bridgers.
"I have a connection (with her) and I saw her in concert this summer so it resonates with me," Patel said. 
While plenty of artists as a whole were represented, some students were a little more specific. Kaylee Futrell chose the lyric, "Hold onto the memories and they will hold onto you," to show her love of Taylor Swift. Written in calligraphy, Futrell had to go solo on this project. The lyric comes from the song New Year's Day off of Swift's Reputation album.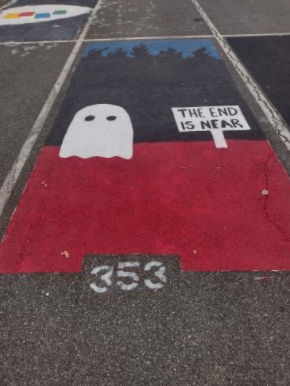 "None of my friends knew how to do that, but they helped me pour paint," Futrell said.
Besides representing her love for Taylor Swift, the lyric has a personal meaning for Futrell that led her to put it on her parking spot.
"I want to hold onto everything, so it's a good reminder," Futrell said.
Cherish Bland, who chose lyrics from "Diva" by Beyonce, has a theory on why there was such a high inclusion of music related parking spots. 
"We're in a generation where there's so much music that describes us and it's so varied," Bland said. "It's an easy way to express yourself." 
Bland had a lot of fun painting her spot and tried to make the most of the opportunity.
"It was really fun, it was a very senior thing to do," Bland said. "The first day we did it it was nice and sunny and I was playing music and it was such a vibe."
However, Bland's experience did not come without caveats.
Number one, the parking spot is really big, who knew that," Bland said. "Number 2, paint, so much more expensive than one would think. I thought it would be a $50 maximum, it was not."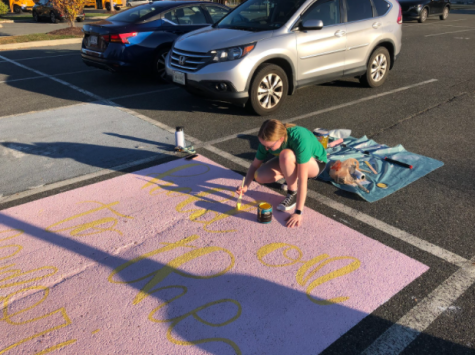 Zero Webb had a similar experience with costs.
"I think it was unfair that we had to pay 10 extra dollars to paint it when we had already paid 50 dollars … to park there," Webb said. "Art supplies, as anybody who's ever done art at any point in time can attest, get costly."
The combined cost of painting supplies, the charge, and the paint itself proved to be significant for most students, including Sydney Ingram. 
"My bank account is sad," Ingram said. 
Even with Webb's investments, financial and temporal, they ran into an issue with their spot after painting Kirby. 
"It rained today, I pulled into my parking spot, noticed it was a little faded," Webb said."Didn't think anything of it, sun damage, rain damage, anything could have happened. I get out of my car and my tires are pink." 
Webb would be happy to touch up their spot if they were allowed.
According to senior class sponsor Victoria Kirtley, the $10 charge goes directly to primer for next year's parking spot paintings. With the estimated cost of $60 in supplies per parking spot, it is unlikely the school will ever provide paint to students in the future. Even still, Bland regards it as a worthwhile experience. 
"[I have] no regrets," said Bland.