Omar Apollo sings to sell-out crowd in Richmond
On Nov. 13, singer Omar Apollo visited Richmond as part of his "Prototype" tour. 
Shortly after his song "Evergreen (You Didn't Deserve Me At All)" became one of the top trending audios on TikTok, the R&B pop musician sold out the city's National Theater. Apollo is one of music's most intriguing new artists, after recently receiving a nomination for "Best New Artist" at the 2023 Grammys. 
Apollo's North American tour launched in Oct. with 23 shows in cities such as San Diego and Tucson. In Richmond, Apollo gave an unforgettable show with a varied selection from his discography. 
Apollo, dressed entirely in black leather, encapsulated the spirit of a real performer by including loads of spins and kicks with fog engulfing the stage and colorful strobe lights in the concert. 
"I brought out the leather for you, Richmond," Apollo said. 
Apollo opened the night with "Killing Me", an R&B track from his debut full-length album "Ivory", which was released earlier this year. Throughout the concert, Apollo played a broad range of new and old songs, including "Useless" and "Highlight".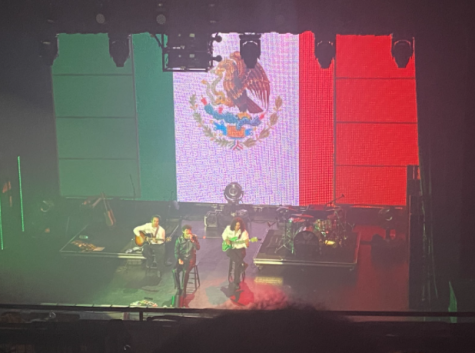 Apollo paid tribute to his Mexican ancestry with songs such as "Dos Uno Nueve" and "En El Olvido." These songs were heavily influenced by traditional Mexican music, and he displayed a massive Mexican flag in the background. 
Other songs, such as "Kamikaze" and "Endlessly," captivated the audience and kept them on their feet. During performances of songs, like "Petrified" and "Evergreen (You Didn't Deserve Me At All)", cell phone lights illuminated the whole venue as fans sang along to the lyrics and waved their hands. 
Afterwards, the crowd exploded in cheers for one more song. Apollo returned to the stage for his encore song, "Go Away", and closed off the night at 10:30 p.m.
Apollo's "Prototype" tour also included an opening performance by R&B musician Ravyn Lenae, whose angelic voice enthralled the Richmond audience and complemented Apollo perfectly. Lenae charmed the enormous crowd with her singing and great stage presence. She primarily played tracks from her most recent album, "Hypnos", which dropped earlier this year, such as "Skin Tight" with alternative R&B singer Steve Lacy and "M.I.A". 
Apollo's "Prototype" tour will finish on Nov. 30 at the Byline Bank Aragon Ballroom in Chicago, with his next scheduled stop at the Anthem in Washington D.C.