Students participate in HiMCM math competition
On Nov. 3 and Nov. 4, students participated in the annual High School Mathematics Contest in Modeling (HiMCM), a national math competition. In groups of three or four, they chose a problem to solve and worked on using mathematical modeling to solve it before writing a solution paper.
The competition took place in the library, and students worked on their solutions for the entire day on both the third and the fourth. There were eight groups.
According to math teacher Katie Rose, who ran the competition, Clover Hill has participated in HiMCM for years. 
"It's something that we've been doing for a very long time," Rose said. 
This year, there were two problem choices: carbon dioxide and bee populations. The carbon dioxide problem consisted of using data on past amounts of CO2 in the atmosphere to predict how much there will be in future years. The bee problem tasked students with modeling the decline in bee populations.
Senior Isaac Lester and his teammates chose the CO2 problem. He feels that they were successful in modeling it. 
"I think we did pretty well," Lester said. "Basically, we used Desmos [graphing calculator] a lot and we mapped out all the data points we were given. We used a regression to find the line of best fit between those to predict future levels of CO2 and temperature. And we found a lot of really interesting models to kind of draw that out."
Because CO2 levels can not continuously rise forever and there is a limit, they had to model both the maximum and the minimum levels.
"We found a really nice logistic model that went straight on the horizontal on the bottom and then spiked and then flattened back out on the top as well," Lester said. "That's what we're using as our main model to describe that."
Senior Glenn Smith's team chose the other problem. They used models to represent the decline in bee populations.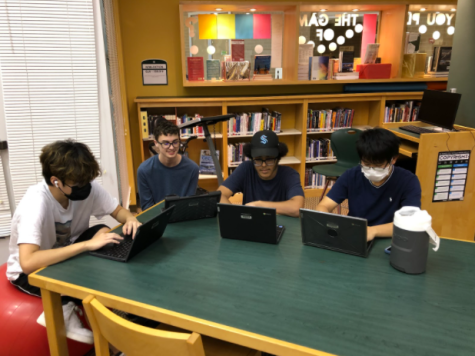 "We decided to make a program in Java that would model the bees and take into account how many bees died from different factors," Smith said. 
Though he can not test it with actual bees, Smith feels that the model accurately represents the situation.
"All the functions like the different reasons the bees might die all seem very plausible and reflect reasonably well how it would happen in the real world," Smith said. 
Though it was strange to miss two days of classes, Lester enjoyed the experience of creating the model with friends and doing math, which he loves.
"It was a lot of fun," Lester said. "We just kind of got to work together and draw different regressions and test different ideas that we would have for why this model would look better than this one."
The results of the competition will come out at the end of January or the beginning of February. Rose feels that the teams did well.
"They certainly dug into the problems," Rose said. "Everyone's solution paper looks really good and presents an interesting solution to the problem that they picked."