Astronomy students launch Artemis-inspired rockets
On Nov. 16, at 1:04 a.m. the National Aeronautics and Space Administration's (NASA) uncrewed Artemis 1 rocket launched, and its capsule will orbit the moon for 25.5 days. NASA plans for the USS Portland to recover the Orion capsule. This mission is the first time humans have gone to the moon since Dec. of 1972 during the Apollo missions.
 The rocket was launched at the Kennedy Space Center in Brevard county, Florida. The rocket is composed of a propulsion system, payload system and boosters that will detach from the payload when they run out of fuel.  The orion capsule will orbit the moon and return to Earth.
The Orion capsule is planned to return to earth on Dec. 10. The main mechanism that NASA is trying to test with the Orion capsule is the heat shield. The heat shield is designed to protect the crew of the capsule from burning up while entering the Earth's atmosphere. The capsule will go as fast as 11 kilometers per second, making it faster than the Apollo capsule. 
Astronomy teacher Nicolas Braun wants to simulate the Artemis launch with his students and open their minds up to the possibilities of deep space exploration.
"I think it's really going to capture the interest of the younger generation and help us set new goals by being a stepping stone for deep space exploration," Braun said.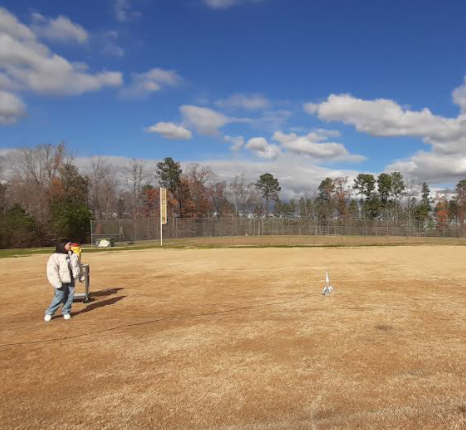 To simulate this launch, Braun's students will build rockets from two liter bottles. Students will then make the necessary measurements which will allow their bottle to remain in the air the longest using water as fuel. The student with the bottle that has the longest time in the air wins a gold trophy with the bottle's name on it. The trophy will sit inside the classroom on display.
"We built Rockets in class to try and simulate basic principles of rocket science and the timeline of building rockets and the artemis program work well so the students are able to learn about rocket science," Braun said.
Junior Sydney McCray enjoyed the project because of how she was able to create her own rocket design. 
 "I think the project was fun because you got to use the materials you never got to use," Mccray said. "I felt like my rocket wasn't the best of the rockets but I like how I was able to design but I wish it deployed better."